Clock ticks against India-U.S. nuclear deal
NEW DELHI (REUTERS) - A historic nuclear energy deal between India and the United States is hanging in the balance due to political opposition in New Delhi, but could still be saved if it reaches the U.S. Congress early next year, analysts said. Communist allies of Prime Minister Manmohan Singh's coalition have demanded the deal be put on hold until their concerns are addressed and have implied they would end their support for the government, triggering fears for the pact.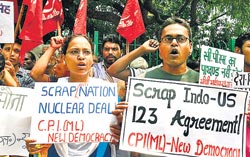 Communist Party supporters protesting against the nuclear deal
Both sides are trying to buy time, looking for a face-saving way out of the crisis as neither is considered keen to see the government fall or face polls at the moment. But having come this far, neither is blinking either.
The deal needs one final approval from the U.S. Congress to go through. But with Washington entering an election year in 2008, the clock is ticking fast, officials and analysts in New Delhi and Washington said. The communists have demanded India put off negotiations for key global approvals for the deal, required before it can be presented to Congress.
But a delay would imperil the agreement, which would then have to struggle to make it over the din of the U.S. election campaign and tight Congressional schedules."If we don't get the agreement up to Congress by April at the very latest, it is unlikely to be acted on (during) the remainder of the Congress," said a congressional aide.
"The presidential campaign is just going to swamp everything else and crowd things out for the calendar," he told Reuters, noting Congress was likely to give precedence to spending bills needed to keep the government running.
Bonanza for US firms
The deal, seen as the cornerstone of a new strategic partnership between the once-estranged democracies, will allow India to access nuclear fuel and reactors from the U.S., and eventually other nations, even though it has tested nuclear weapons and not signed the Non-Proliferation Treaty. For India, it will end over three decades of global nuclear isolation and help meet its soaring energy needs in what is seen as one of its biggest foreign policy triumphs in decades.
For U.S. nuclear firms, it opens up the Indian market, estimated to be worth $100 billion, as New Delhi aims to boost its nuclear power capacity to 30,000 MW over the next 20 years from around 3,500 MW now. But the communists, known for their traditional anti-Americanism, say it impinges on India's sovereignty and imposes U.S. hegemony.
They want the government not to proceed with negotiations on an agreement to place its civilian reactors under International Atomic Energy Agency (IAEA) safeguards, something the government plans to conclude in November. The deal then needs the approval of the 45-nation Nuclear Suppliers Group that governs global nuclear trade, before being introduced in the U.S. Congress either ahead of the Christmas recess or immediately after.
Fears overblown
However, Indian officials and analysts are confident that even if this process is delayed by a month or two due to haggling between the communists and the government, it would not damage the deal's prospects too much."There definitely is an urgency to get this done but there are no strict deadlines, there is nothing absolute," a senior Indian official close to the negotiations said. "The only worry is of getting the schedules right as congressmen would be traveling a lot in a campaign year and the legislation schedules would be tight," the official, who spoke on condition of anonymity, told Reuters.
Under U.S. laws, the pact, called the 123 agreement after a section of the U.S. Atomic Energy Act, needs to be in Congress for 45 legislative days after introduction for lawmakers to be able to vote, he said."So all we need are those 45 legislative days." Naresh Chandra, who was India's envoy in Washington from 1996 to 2001, said too much was being made about nothing getting done in Congress in the last year of an administration.
"Nothing is further from the truth," Chandra said, adding he was witness to Congress passing several bills, including some controversial measures relating to China, during election years in 1996 and 2000. "It is very simplistic to say the Democrats will oppose everything the Republicans propose in an election year," he said. "There is something to that but it is being overblown."
One other danger the deal faces is the prospect of India's left parties ending support for Singh's government, reducing it to a minority government if it pursues the current approval schedule. However, that would not automatically cause the government to fall as the left is not expected to vote with its rival Hindu nationalist opposition against the government in a confidence motion, analysts said.
Would Washington pursue the deal with a minority government whose parliamentary legitimacy could be in question? Yes, said a U.S. congressional aide who asked not to be named.