Seven Palestinians killed in clashes with Israel
JERUSALEM, Saturday (AFP) - Israeli troops said they shot and killed two Palestinians who tried to fight their way from the Gaza Strip into Israel today during a surge in clashes that has left seven Palestinians dead.An Israeli soldier was also wounded in the shootout that erupted when the two fighters opened fire on the Israeli liaison office at the Erez border crossing at the northern end of the Gaza Strip, the spokesman said.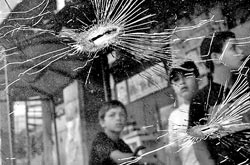 Palestinian boys are seen through the glass of the damaged car of Islamic Jihad militant Ala Abu Srour, 30, killed by Israeli forces in Jenin. AP
Soldiers from Israel's elite Golani regiment killed the two militants, he added. Two armed groups -- the Popular Resistance Committees and another linked to the leftist Democratic Front for the Liberation of Palestine (DFLP) -- claimed responsibility for the "joint attack on Israeli territory."A joint statement identified the dead as Khader Aokal, 22, a militant from the Popular Resistance Committees, and Mohammed Saker, 22, from the DFLP.
The two groups, along with a third, claimed responsibility for a joint operation in the northern Gaza Strip Friday evening in which two Palestinian fighters were killed by Israeli troops.
The Gaza Strip is now run by the Islamist group Hamas which captured the territory in June from forces loyal to the secular Fatah faction of Palestinian president Mahmud Abbas.
The incidents marked a surge in clashes with the Israeli army in both the West Bank and Gaza Strip that has left a total of seven Palestinians dead since late Friday. In the northern West Bank town of Jenin on Saturday, Israeli forces killed one Islamic Jihad militant and wounded two others, one of them seriously, a Palestinian security official said.
Two bystanders also sustained bullet wounds in the operation, the official added. The official identified the dead man as Ala Abu Surur, 30, a militant wanted by Israel.
An Israeli army spokeswoman confirmed the clash. "A special forces unit operating in Jenin spotted three armed men in a car and opened fire at them,"she said."The three occupants of the vehicle were hit. They were in possession of two assault rifles -- a Kalashnikov and an M16 -- and ammunition".
A 13-year-old Arab Israeli boy and a militant from Islamic Jihad were also shot dead late Friday when Israeli troops traded fire with militants in the northern West Bank village of Saida, a Palestinian security source said.
The Arab Israeli was visiting his brother Sadiq Awdi, a militant with Islamic Jihad, when Israeli troops closed in on the house they were in. An Islamic Jihad militant was killed in the exchange of fire and Awdi was captured by Israeli troops, the security source said.
The Israeli army said that two Palestinians were killed, including one who was armed, and that an Israeli border guard was also slightly wounded in the incident.