Relatives of Islamic militants evacuate besieged Palestinian camp in north Lebanon
LEBANON, Saturday, AP -- Families of Islamic fighters left a besieged Palestinian refugee camp after the militants and the Lebanese army agreed to the evacuation, according to a Muslim clergyman mediating between the two sides. The evacuation of the 25 women and 38 children _ mostly relatives of Fatah Islam fighters caught inside the Nahr el-Bared camp for three months _ clears the way for a possible final military assault to eradicate the remaining militants inside.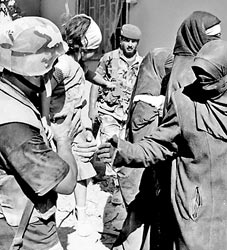 A Lebanese Army handout picture shows a soldier handing a young girl to a fully veiled woman as refugees walk out of the destroyed and besieged Palestinian refugee camp of Nahr al-Bared in northern Lebanon. AFP
Only fighters, now estimated at about 70, remain in a small area deep inside the camp near the coast. An army statement called on remaining Fatah Islam fighters to surrender, pledging to give them ''humanitarian treatment and a fair trial.'' Fighting has continued for more than three months at Nahr el-Bared, just outside the northern port city of Tripoli, in what has become Lebanon's worst internal violence since the 1975-90 civil war.
An official with the Palestinian Scholars' Association who was at the southern entrance to the camp said the women and children evacuated Friday received food and water before boarding army buses that took them outside the camp for interrogation, the official added, speaking on condition of anonymity because of the sensitivity of the operation.Highlighting security concerns _ some officials had expressed fears that the civilians would be wearing explosive belts _ television crews and journalists were asked to leave before the evacuation started.
Lebanese private LBC television later showed footage of a brown army bus ferrying the fighters' families to a military barracks. The army command also released footage showing a group of women, covered in black from head to toe, as they arrived at an army outpost in the camp, some of them holding babies. It also showed soldiers carrying toddlers and putting them onboard the army bus.
Witnesses near Nahr el-Bared said the army suspended its bombardment for a few hours Friday during the evacuation. Some media reports said the evacuated civilians are believed to include the wife of Fatah Islam leader Shaker Youssef al-Absi and the widow of his deputy, Abu Hureira, who was killed by Lebanese troops outside the camp earlier this month.
For weeks, the army has been calling on the remaining civilians in the camp to leave, saying that their presence was slowing down the army operation and hindering a final military push against Fatah Islam fighters there.