Life returns to normal in Bangladesh
DHAKA, Bangladesh, Saturday (AFP) - Shoppers thronged markets in Bangladesh today as a curfew clamped on six cities to reassert the military-backed government's authority after violent clashes was relaxed for most of the day.The restrictions -- imposed on Wednesday after three days of anti-army student protests spread to other cities -- were also lifted for most of Friday but were due to be enforced again on Saturday evening.
As cars and buses returned to the streets, and shops and businesses re-opened, many people said they were relieved that the uncertainty caused by the violence appeared to be over."I don't know anything about this student protest, but I know I could not earn money for the last three days," said 40-year-old Moslem, who pulls a cycle rickshaw, one of the country's main modes of transport.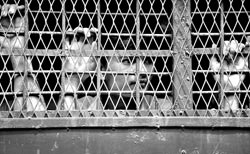 Bangladeshi detainees stand in a police van following their arrest amidst ongoing protests. AFP
Five university professors have been detained by security forces for their alleged involvement in the protests that spiralled out of control on Wednesday, prompting the government to announce the curfew.
The academics were arrested in raids in Dhaka and northwestern Rajshahi, where one bystander was killed and dozens injured in a clash on Wednesday."At least 10 army officers came to our house in the night and said my father had to go with them to the police station," said the daughter of one of the academics, Anwar Hossain of Dhaka University.
Hossain and a university colleague, Harun ur Rashid, had been critical of the army and the military-backed government since the protests -- sparked by army personnel manhandling students on the Dhaka campus -- began on Monday. In Rajshahi, three professors were detained.
Although the government later agreed to close an army post on the Dhaka campus, the protests continued and spread to other universities. Protests have been illegal since a state of emergency was imposed in January following months of violence over vote rigging allegations.
The head of the interim government Fakhruddin Ahmed announced the curfew on Wednesday night describing it as a temporary but necessary measure to prevent "anarchy."He also accused politically-motivated thugs of hijacking the protests. Six local political leaders -- from main parties the Bangladesh Nationalist Party and the Awami League -- and the head of the BNP's student wing were also arrested on Friday.
A leading journalists' body accused police and security forces of a string of attacks on journalists."At least 30 reporters and photographers were brutally beaten up by security forces during the curfew hours on Wednesday and Thursday," said Manjurul Ahsan Bulbul, president of Bangladesh Federal Union of Journalists.
Bangladesh's emergency was imposed on January 11 when elections scheduled for later that month were cancelled. The new government, which took over the following day, has promised new polls by the end of 2008 after it has completed a massive anti-corruption drive to clean up the country's graft-ridden politics.