34 killed in two terror attacks in Hyderabad
HYDERABAD, India, Aug 25, 2007 (AFP) - Two near-simultaneous blasts tore through the Indian city of Hyderabad late tonight, killing at least 34 people in what a senior state official said was a suspected terror attack.
"We have 34 people officially reported dead and more than 50 injured. Fifteen of them are in serious condition," R.V. Chandravardan, a top administrator of Hyderabad, told AFP. One explosion ripped through an auditorium in a park where a laser show was underway. Another blast rocked an outdoor eatery in a congested area elsewhere in the southern city.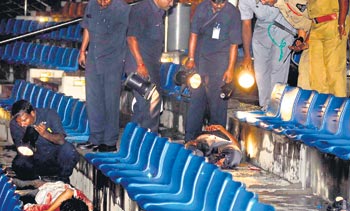 Police officials inspect the bodies of victims at the site of the blast at the Lumbani park, in Hyderabad, India last night. AP.
"Twenty-eight people are dead," Chandrashekar Reddy, the spokesman for the chief minister of Andhra Pradesh state, told AFP. "The chief minister suspects terrorist activity," Reddy said, adding that a "red alert" had been declared across Hyderabad, one of India's most developed cities and an emerging software hub.
It was not immediately clear who might be responsible for the blasts, and police immediately evacuated the areas where the explosions occurred.
Television footage showed a body crumpled under an auditorium seat at the laser show and the injured being rushed to hospital in three-wheel scooters.
Prime Minister Manmohan Singh condemned the blasts in Hyderabad, which is the capital of Andhra Pradesh state, and expressed his deep concern, the Press Trust of India reported.
In May 11 people were killed in a bombing at the city's famed 17th-century Mecca Mosque, although police have still not named any group or individual as suspects. Ten days ago, when India was celebrating the 60th anniversary on August 15 of its independence, authorities stepped up security across the country after new threats by Al-Qaeda and separatist rebels. Police chiefs said then that, while there was nothing specific, they were taking the threat very seriously.