The ownership of the Tooth Relic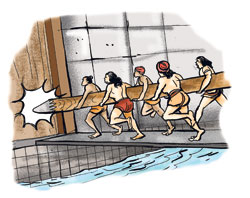 1. Commander Raksha was not one bit bothered about the great loss caused. He was only encouraged to continue fighting. He always tried to boost the morale of his soldiers. He used all types of tactics. A number of enemy fortresses were destroyed. Overcoming all the obstacles in his way, he marched on, till he reached the village named Ambala. He had to fight both day and night.
2. At this point, when he defeated one enemy unit, two or three more came to fight. They were attacking from all sides. But Commander Raksha did not retreat. He continued to fight. Meanwhile, Parakramabahu got to know about all these fights. He was proud of Raksha and sent fresh re-inforcements for his assistance.
3. Whatever was needed at the battle-field was soon sent by Parakramabahu, through his chief minister.
He too joined Commander Raksha in battle. This added to the strength of the troops that came from Polonnaruwa. They were able to defeat the enemy forces and go as far as Kelaniwatta. There, they set up camp and spent a few days. From there they proceeded to Vatarakgoda.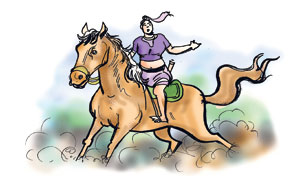 4. Their next stop was at Loggala. There, fighting broke out again. Severe fighting ensued and immense was the loss caused. But as Commander Raksha was determined, he won the battle. Then they went to Medagama. It was here that the Tooth Relic had been kept. A big battle had to be fought to get the Relic. They also had to face an enemy army that came from Katudora.
5. Raksha and his soldiers were able to defeat all these troops. So what they did was to erect a fortress there. In the midst of all this, Queen Sugala took the Tooth Relic and fled to Uruwela. By this time, entire Ruhuna had turned into one big battle-ground. Commander Raksha and his friend Bhuta combed the entire land of Ruhuna.
6. Adhikari Keerthi too entered the battle-field, wishing to gain victory for Polonnaruwa. The whole of Ruhuna was one big funeral house. There were dead bodies at every door. People were mourning the dead. Yet, some of these people of Ruhuna were wonderful. They did not retreat but made every attempt to keep the Tooth Relic in Ruhuna. They were united like one body and continued to fight.
7. Now there was an accepted belief regarding the ownership of the Tooth Relic. The concept was that the Tooth Relic, should be with the king of the land. King Parakramabahu too was aware of this belief. This inspired him to continue the fight in Ruhuna. He sent further reinforcements and very powerful warriors which was the need of the hour.
8. They destroyed entire enemy villages. Then came a severe battle, which brought about endless ruin. Finally, the warriors of Ruhuna were defeated by the warriors that came from Polonnaruwa.