Academic urges industry to stop criticising universities
A top university academic this week urged the private sector to stop criticism of universities saying "we do not criticise anyone so lets get together and work for a common goal".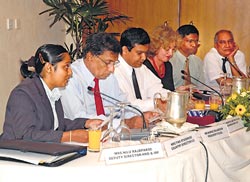 At the IRF
The comments were made by Prof Ananda Jayawardane, Dean, Faculty of Engineering, University of Moratuwa, during a presentation at the Industrial Relations Forum (IRF) of the Federation of Chambers of Commerce and Industry of Sri Lanka on the theme "Importance of University Interaction with the Industrial Relations Forum. He was speaking at the Third IRF, according to a statement of the meeting issued by the FCCISL.
IRF which was started very modest with just eight members has presently grown to a large representative body and is also focusing on the SME Sector.
Prof Jayawardena said that in training graduates to suit the industry one should understand the duty of the universities. He was quoted in the FCCISL statement as saying the situation has however now changed drastically as universities are beginning to understand its role in training the students to suit the industries.
He said that it was less than 10 years ago that they identified the importance of university-industry interaction and there was a time industry and university worked independently and criticized one another. Although this situation is vastly improved due to various initiatives by some industry sectors and chambers such as FCCISL and some universities, there exists still a gap between the quality of university graduates and the industry expectations.
Prof Jayawardena said the present university-industry interaction fell significantly short of expectations. He said that universities and industries should not be considered as two different entities when it came to developing of human resources or creating wealth for the nation, but both stakeholders should act as one whole team working together, sharing resources, expertise recognizing and exploiting opportunities for the mutual benefit and benefit to the nation.
Nihal Rangala, Director, Human Resources Division and Industrial Relations, FCCISL said the forum today is not only the largest and powerful but also the most widely represented industrial relations forum and this National Forum has now gone to the provinces too.
He said that their relations with the Labour Ministry could be identified as almost an MOU with the latter and they are dealing with 50 units of the Labour Department around the country.