Buying decisions influenced by youth
Everywhere you look, you see advertisers blatantly trying their best to reach their core audience in marketing products, be it on television, in magazines or on the radio. Many advertising agencies have finally figured youth, as being amongst the highest media consumers today and are setting buying trends for the rest of the population.
"We do not understand the youth when we think we do," Ranil de Silva, CEO Leo Burnett Solutions Incorporation (LBSI) said. He said in the industry of advertising and marketing communications youth play a crucial role as more and more buying decisions were influenced by them. The Sri Lanka Chapter of the International Advertising Association (IAA) launched its second Leadership Forum focussing largely on the evolving environment driven by technology and the youth.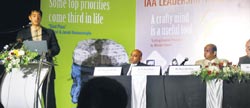 At the leadership forum
"Youth are influencing decisions, more so because their access to information is more vast than their previous generation's and they are brought up in an era where they are technologically very savvy," he explained De Silva added that expectations of youth in Sri Lanka appear to be homogeneous wherever they are. "This is a key finding in a research study on youth trends conducted by Research Consultancy Bureau (RCB) at the request of the IAA," he said.
Ravi Bamunusinghe, CEO RCB said that the research was based on Ray Oldenburg's third place concept to get information on perceptions of the youth."The third place of Sri Lankan youth was the subject of the research study on youth trends and the concept of '3rd place' was introduced by the well-known sociologist Ray Oldenburg and refers to a place other than Home (1st Place) or office (2nd Place)," he clarified.
He said the research was carried out in greater Colombo and peripheral rural areas of Avissawela, Kalutara and Horana and that 36 discussions were conducted among over 200 youths, mainly in the age category of 18-24 years."Third place was a vehicle to get into the minds of the youth. We found that we have not created enough opportunities for youth to express themselves," he said.
Bamunusinghe further said that the study primarily focused on whether Sri Lankan youth are free in what they decide or whether there is an invisible mechanism in society that influence their decisions, which they are conscious of. The study reveals some distinctions between youth by gender and area of domicile. However, in terms of expectations they seem to be homogeneous.
Using this as a base, the study has identified several types of life styles of youth in day to day living, and the multitude of roles they need to perform. The study thus explored the attitude and behaviour of youth, in 3rd place, to bring out their views about society, interactions and degree of satisfaction. These views have facilitated to identify 3rd place as a dimension to understand the youth and their roles for effective marketing and communication activities.
He said the study would empower the advertising fraternity to better focus on communication with the youth. Janaki Bamunusinghe, Director RCB said that youth are not getting enough opportunities to exercise their needs. "Through the study, we realised that youth's expectations whether rural or urban is the same, but the size of the expectations differ according to their experiences," she said.
"What we found out from these youth could significantly enhance the way advertisers market their products today," she said, adding that reading and analyzing the survey findings, will provide advertisers with new ideas about how to devise culturally relevant and ethnically sensitive campaigns to influence the buying decisions of this hard-to-reach audience. She also said that the survey results will help professionals in the advertising and entertainment industries who are interested in truly understanding what most appeals to urban and rural youth and the personalities to whom they relate.
Bamunusinghe noted that Lankan youth are in a 'me' driven environment. "Therefore, we need to understand that they are responding to the environment," he said, adding that the research was conducted on place based sensitivity where a matrix of brand connections was developed. "It is important to understand 'place' as a dimension to connect a person to a product," Bamunusinghe further explained.
"Their influence on family spending is that they essentially are the co-purchasers," Bamunusinghe said, noting that because the kids don't carry the credit cards — their parents do — it is difficult for retailers to track their spending habits, especially in the urban areas. De Silva said that a lot of retailers will think that 44-year-old women are making most purchasing decisions, "but it's really the 16-year-olds."
Richard Dale, Engagement Planning Director, LBSI speaking at the Forum noted that all teens are Internet savvy and have a wide-reaching social network that influences their buying decisions. He said that through sites such as myspace.com or facebook.com, teens have dozens, maybe even hundreds, of people they regularly communicate with and then have another potential thousand who they may never meet but have interactive communication of some sort with.
"These vast networks of who they tap into are fundamentally changing how they shop," he said, adding that their word-of-mouth sway doesn't come at a party or family gathering but from a wide swath of members of their greater online network.
Generation Y, which includes those now aged 6 to 24 but whose youngest members are also often referred to as the 'Millennials', is turning the shopping experience upside down and proving challenging to retailers, according to Dale."That generation is the most informative and the most influential generation we have ever seen," he said. "They have knowledge at their fingertips that older consumers have never had. They are tech savvy and know how to learn and how to share those learnings."
"The power of their network — and how much influence they can have so quickly --- is just enormous," he said.