Southern businessmen share experiences
A one-day experience sharing workshop between Southern businessmen and members of the Trincomalee District Chamber of Commerce and Industries was held in Trincomalee under the auspices of the Business for Peace Alliance (BPA), an institution established five years ago as a regional business network for regional empowerment.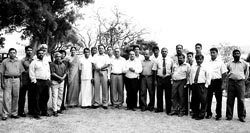 Participants
BPA also has been granted-affiliated membership of the Ceylon Chamber of Commerce (CCC). Fifteen members selected from the Chamber of Commerce and Industries of Galle, Kalutara, Kegalle and Pollonaruwa participated in the workshop along with 40 businessmen of all communities representing the Trincomalee chamber.
Gamini Rodrigo, Eastern Provincial Council Chief Secretary inaugurated the workshop while Nihal Karunatilake, Deputy Inspector General of Police (Police Headquarters) participated as the Guest of Honour. R. Rajarammohan, Chairman of TDCCI presided over the inaugural event. Rodrigo said the business community could play a vital role to find sustainable peace in the country. Karunatilake said the hearts and minds of people should be won to achieve peace. He said the business community could contribute its share to achieve this objective.Speakers at the workshop stressed that peace was vital for business development. The workshop was divided into four sessions. The final session concluded with fellowship.