Lankan exporters receive Presidential export awards
Thirty eight Sri Lankan exporters were honoured at the highest level at the 14th Presidential export awards ceremony held in Colombo, after a lapse of 10 years. Presidential exports were presented to exporters who excelled in the non –traditional products and services sector in 2005. Sri Lanka's leading apparel exporter Brandix received a special award for highest net foreign exchange earner and for the Most Outstanding Exporter in the apparel sector.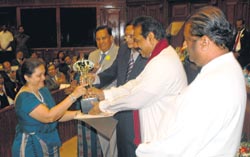 A small -medium sized exporter receiving an award
Addressing the gathering of top level exporters in the country, President Mahinda Rajapaksa assured that the government will extend every possible assistance to local exporters who have contributed immensely towards the growth of the economy. "Their contribution was 25 percent of the country's GDP," he said.
Thirty six exporters have received export concessions from the last budget and they have acquired foreign expertise and know-how with the mediation of the government. President Rajapakse emphasized the need to maintain the brand names of export companies in spite of stiff completion from multinationals."This is not an easy task," he said.
The President called on local exporters to explore the possibility to enter into vast Chinese and Indian markets as the trade deficit was heavily in favour of China. He noted that his recent official tour of China had paved the way towards increasing investment and trade.
The President also said the electricity tariff would be reduced after the completion of Norochcholai , Upper Kothmale and Kerawalapitiya power plants. Brandix CEO Ashroff Omar, invited to make a presentation on expanding exports through public-private partnership, said close relations between the two sectors helped the apparel sector to gain successful results.
However he stressed the need for a single body for each and every sector when negotiating or seeking assistance from the public sector rather than making representations through several associations or unions. He disclosed that the country's export earnings from the apparel sector will soon reach the US$1.5 billion mark.
Minister of Export Development and International Trade Prof G.L Peiris revealed that a delegation from Azerbaijan will arrive in the island soon to find ways and means to improve bilateral trade and investment ties and it will be a good opportunity for Sri Lanka to explore the Central Asian market.