Brandix sees rapid growth, greener operations
Brandix is planning to grow into a US$ 500 million business "very fast" while going greener by reducing its carbon footprint by 25 percent over the next five years, and raising its on-time delivery to 95 per cent in the year ahead.
The country's largest apparel exporter whose 2006-07 revenues topped US$ 320 million was quoted in a Brandix statement as telling suppliers last week the Group had witnessed growth of 14 per cent up to June 2007 and would continue to aggressively invest in new growth in the current year.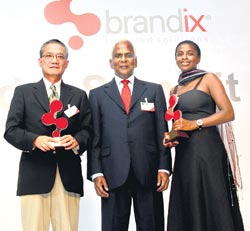 Brandix Chairman Ken Balendra with two of the Vendors
Addressing a Vendor Summit attended by some 180 leading suppliers at the Waters Edge Golf Club, Brandix CEO Ashroff Omar said the Group is focusing on creating a compelling offer to retailers with the support of its suppliers. Towards this end, Brandix had begun sharing its key performance indicators and its customer calendar with suppliers to improve visibility and ensure that suppliers share in the challenges, he said. Omar said the environment was becoming an important factor in the supply chain. Unpredictable weather patterns and climatic changes had added another dimension to the business with seasonal clothing being outpaced by unexpected changes in the weather in the retail markets, he said.
An important area of focus was the Brandix Group's Green initiatives, including programmes to reduce energy and water consumption and improve solid waste management. Hilary Nath, Head of Environment Management & Research at Brandix said the Group had achieved a 10 per cent saving in energy consumption last year and was on target to reduce consumption by 15 per cent in the next two years.
Brandix Lanka Director Udena Wickremasooriya gave the forum an insight into the progress made at Brandix India Apparel City (BIAC) the Group's vast vertically-integrated apparel manufacturing park in Andra Pradesh. Positioned as 'the next frontier for Brandix and its partners,' this US$ 1 billion investment is expected to generate exports of US$ 1.2 billion a year while delivering a 21 per cent saving on utility costs and a 10 per cent reduction in FOB to companies that locate there.
Among the top Brandix suppliers recognised with awards at this year's Vendor Summit were Pacific Textiles as Vendor of the Year (Textiles) and Paxar, the Vendor of the Year (Accessories).
Other award winners included Debs Corporation (Most Innovative Partner – Textiles), Stretchline (Pvt) Ltd. (Most Innovative Partner – Accessories), Thermo Plastics (Pvt) Ltd. (Most Flexible Partner), Ceylon Tapes (Pvt) Ltd. (Best Support Product Partner), Screenline (Pvt) Ltd. (Best Apparel Service Partner), Wah Fung Knitting Hong Kong (Best Emerging Partner – Textiles) and Cargear Industrial Ltd. (Best Emerging Partner – Accessories).