Janashakthi insures Hambantota housing project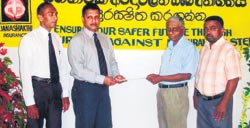 Ranjith Edirisooriya (JICL's District Sales Manager - Hambantota) and Lionel Hewawasam (UN's District Manager - Hambantota) exchange documents. Also in the picture are (L to R) Tharindu Iman Jayasinghe (JICL's Business Promotions Executive -General) and Wasantha Dissanayaka (UN's Community Housing Mobiliser - Hambantota).
The Janashakthi Insurance Company recently partnered UN-HABITAT (United Nations Human Settlement Programme) to insure the houses of the Uddhakandara Housing Project in Yodhakandiya, Hambantota.
A post-tsunami resettlement project sponsored by UN-HABITAT, this project houses a total of 500 families, whose livelihood depends on fishing, according to a Janashakthi press release.
Janashakthi also educated the villagers on how they could safeguard themselves and their families against uncertainties through insurance.General Manager, Sales and Marketing of Janashakthi Insurance Co. Ltd.
Ravi Liyanage said, "We are currently working in collaboration with the UN to extend this project to more villages in the Galle and Ambalangoda areas."