Lanka's irresponsible ministers and migrant rights
On Wednesday, Sri Lanka's Minister of Labour, Athauda Seneviratne, dodged questions at the international AIDS conference in Colombo (8th ICAAP) about the Sri Lankan government's stand on the Saudi death sentence on a young Sri Lankan girl. Rizana Nafeek, a 19-year-old migrant worker, was sentenced to death on June 16 for allegedly killing a four-month-old infant in Saudi Arabia. She did not have legal representation and does not speak the language. She had only one month to file an appeal to avoid being executed by sword.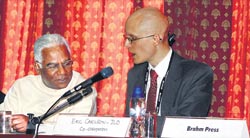 The minister with a co-chair
While the international and the Sri Lankan media ran hysterical headlines on the case, the government remained silent until much, much later. Although a reprieve was eventually won for Nafeek, this was done with legal representation hired by an NGO and not through government intervention to facilitate fair play for its citizen.
On Wednesday after the ICAAP session on Health and Human Rights of Migrant Workers, the minister was asked what the government planned to do to protect Nafeek.
The response was enlightening. The minister dodged the question, went on a random rigmarole about development and labour exports and then with no warning started telling the international gathering of scholars, political representatives and international agency representatives that "sex is a normal urge." Since no one knew how sex came into the death sentence of a girl, a delegate wanted to know why "politicians were invited for these discussions."
The minister went onto say that labour migration is "free trade" and that people are free to do whatever they want. The government of Sri Lanka, he said, is negotiating with labour receiving countries to improve the lot of migrant workers. The minister did not respond clearly to the question on the government's stand on Nafeek but just said "we will have to appeal to the president."
Analysts said the minister's response made two things clear. Firstly, why the abuse of Sri Lankan housemaids have continued for 30 years since opening the economy - because the authorities themselves are extremely insensitive to migrant worker needs.
The second point is that governments of labour sending countries have very little bargaining power against labour receiving country governments.
Given heightening competition in global labour markets and low skills development of migrant workers from Sri Lanka, the government has very little to use as a bargaining chip to improve wages and rights of migrants. Because domestic employment generation is slow, the poor are forced to work abroad to live.
No mandatory testing for HIV
The ICAAP sessions on Wednesday also highlighted the trend of mandatory testing of migrant workers for HIV/AIDS. Both the International Labour Organisation (ILO) and CARAM Asia - a network of NGOs and CBOs involved in empowering migrants - maintained that mandatory testing for HIV/AIDS is unacceptable.
The organisations said that labour sending countries are sometimes forced to comply with mandatory testing by labour receiving countries but in some cases this is done voluntarily by labour sending countries themselves. There are around 53 million migrant workers only from Asia. Given the size of the affected population, whether HIV testing should be mandatory to protect health and safety of labour receiving countries, or whether this should be stopped immediately, is a hot topic.
CARAM Asia says that mandatory testing systems for HIV that are now in place, are discriminatory and stigmatising. "Mandatory testing is a different creature from voluntary testing because voluntary testing is done to prevent and treat illnesses. But mandatory testing is done to decide who can go abroad to work and who can't," said Brahm Press from CARAM Asia.
CARAM points out that often mandatory testing violates a person's right to privacy, confidentiality and is often non-consensual.
"Migrants are asked to sign papers agreeing to the tests. But they are not told what it is about or what it is for," said Press, based on a recent CARAM research findings.
"They also violate confidentiality because often the test results are sent to the recruitment agency and not the person that was tested. If tested positive, the agencies don't bother to inform them. So these people don't know that they are HIV positive," he explained. The ILO code of practice on HIV AIDS also says mandatory testing is not required for migrant workers and the ILO declaration of Philadelphia states that labour is not a commodity.
However, countries continue to impose mandatory testing on poorer developing countries that depend on remittances for their economies and developing country governments continue to think of migrant workers as 'tradable goods'.
ILO and CARAM Asia are calling for all health testing to be migrant friendly and for mandatory testing for HIV to be stopped immediately. Meanwhile the ILO also points out that national governments have a responsibility to negotiate with labour receiving countries for better working conditions and better legal protection for migrant workers.