New Tourism Act by October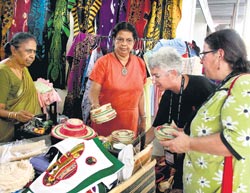 Hotels were overbooked and Sri Lankan expats back on holiday found it hard to find a room in Colombo. After a lapse of several months, a series of international events including the 8th International Congress on AIDS in Asia and the Pacific (ICAAP) brought hundreds of visitors to Sri Lanka. Picture shows ICAAP delegates checking out clothes at the BMICH where the conference was held. Pic by J. Weerasekera.
Industry stakeholders are eagerly awaiting the creation of a Tourism Development Authority under the new Tourism Act, drafted two years ago, and now due to be effective from October 1.
Abbas Esufally, Group Director Hemas Tours said that the private sector, despite owning almost 100 percent of the tourism assets in the country, hasn't had a voice on how to promote tourism in the country. "Now the private sector has enough teeth to do so," he said, adding that particular emphasis has been given to small, medium and niche players in the Act. "The Act is all inclusive that has encompassed all the players," he added.
He said that Sri Lanka Tourism Promotion Bureau will be a new institution set up to undertake tourism marketing and promotion. The Sri Lanka Convention Bureau will continue to function while the Sri Lanka Institute of Tourism & Hotel Management will be set up under the Act.
Hiran Cooray, Managing Director Jetwing said that it was a good move by the Tourism Minister, Milinda Moragoda to bring in all the stakeholders together. "He united all the industry players," he said, adding that implementing this Act was fast tracked to six months from 12 months.
"It is a fresh start. The new Act brings in many stakeholders such as restaurant owners, small guest house owners and tour guides to promote the destination," he said.