The consequences of Lanka's rude diplomacy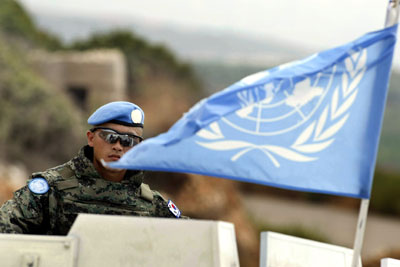 A South Korean UN peacekeeping soldier sitting atop an armoured vehicle during an exercise to train UN artillerymen to maintain their capacities in southern Lebanon. AFP
NEW YORK - The intemperate and raw language used by some of our politicians to lambaste UN officials, including a snide reference to the Secretary-General, has been widely described in the Sri Lankan media as the dialect of "street thugs". But that would be unfair to most street thugs.
In recent memory, no member state — not even Sudan currently embroiled in a running battle with the UN over a peacekeeping force for battle-ravaged Darfur — has degenerated to the point of being uncivil and uncouth towards officials of the world body. As one veteran diplomat points out even during the most heated controversies at the UN — Kofi Annan's criticism of the war on Iraq and the fallout from the oil-for-food scandal — public comments by politicians and diplomats were often strong, but always civil.
In the past, there were developing country diplomats who had pretty harsh thoughts about senior UN officials such as Andrew Cordier, but they never descended to the lowest depths of coarseness in their public comments. And so, at the United Nations, the reputation and diplomatic credibility Sri Lanka meticulously and arduously built over decades has gone down the sewer.
The bottom line is that diplomacy is too much of a serious matter to be left in the hands of tactless politicians. As an anonymous wit once remarked: Politics is, after all, the last refuge of the incompetent. In diplomacy even the most unpleasant or unpalatable things are given a veneer of politeness.
When bilateral talks are described in a press communique as "full and frank", they are invariably a code word for strong disagreements. And most battles are won with quiet diplomacy, not loud-mouth political grandstanding. The recent attacks on the UN were directed mostly at Under-Secretary-General for Humanitarian Affairs John Holmes who told a British wire service that Sri Lanka is one of the world's most dangerous places for aid workers thereby provoking the outrageous negative comments. As a result, Holmes was denounced as a "terrorist" in the pay of the LTTE — a statement described by the Secretary-General's spokesperson, as "unacceptable and unwarranted."
The battle with the UN also comes at a very inappropriate time — particularly in the context of President Mahinda Rajapaksa's address to the General Assembly on September 25. Perhaps he will be the only head of state addressing a world body whose officials have been denounced in politically brutal language by his own prime minister and one of his senior ministers.
When Secretary-General Ban Ki-moon meets with the visiting President, he is sure to express his concerns about several sensitive political issues relating to Sri Lanka, including human rights abuses, disappearances, killings of humanitarian workers and the harassment of journalists, the latest victim being the Sunday Times Consultant Editor Iqbal Athas. Additionally, there is also the lingering issue of tacit military support by the armed forces for the recruitment of child soldiers by the LTTE breakaway group, the Karuna faction.
Meanwhile, several human rights organisations, including Amnesty International and Human Rights Watch, are expected to sustain their pressure by spotlighting the state of Sri Lanka's human rights in reports and press releases to be released during the President's visit. Perhaps it is best for President Rajapaksa not to have a media conference at the UN or any other public engagements where his government will be targeted for public criticism.
Relations between the UN and Sri Lanka have deteriorated to such a point that a reporter for a London newspaper was constrained to ask at the noon briefing whether Sri Lanka could be penalized by a rejection of its troops from UN peacekeeping operations.
The verbatim UN briefing notes from the news conference reads as follows:
Question: "I know there seems to be a lot of tension between the UN and Sri Lanka recently, and there was this report done by Human Rights Watch, which said that the Sri Lankan Government appears to have given the green light to security forces to conduct what is essentially a dirty war in Sri Lanka. I'm wondering, in that context, whether the UN is having any new thoughts on the use of Sri Lankan security personnel as peacekeepers."
Spokesperson Michele Montas: "This question was asked before, and as far as I know, the troops existing already are still deployed in different missions. However, I don't think there was any additional request for any additional troops (from Sri Lanka)." When the armed forces in Fiji ousted the country's democratically elected government and took power, there were strong criticisms of the military for the illegal takeover. The Fijian military was also accused of human rights abuses. As a result, there was a move to bar Fijian peacekeepers from UN peacekeeping operations.
Currently, Sri Lanka has more than 1,300 troops serving in Haiti. By all accounts, they are a very professional fighting force with no charges of misconduct or irregularities. But any hints of human rights abuses by the Sri Lankan military at home would jeopardize its participation in future UN peacekeeping operations.
Although no country has been barred from UN missions on grounds of human rights abuses, the UN may take that step in the future. The rumblings are already there. Last week, a Rwandan army major general, Karenzi Karake, who was elected as deputy commander of the new UN mission in Darfur, was being investigated because of his political past. The Rwandan army officer is accused of ordering political assassinations and overseeing massacres during or before the infamous 1994 genocide in Rwanda.
Last week Jayantha Dhanapala, a former UN Under-Secretary-General for Disarmament Affairs who made an unsuccessful run for the job of Secretary-General, also weighed in with his comments. Dhanapala was quoted as saying that Sri Lanka's international reputation had been tarnished by the use of language not befitting our cultural traditions and international diplomacy.
Perhaps in hindsight he may be glad he was not elected UN Secretary-General last December.