Easter is crime time in Norway
OSLO, (AFP) - Visions of corpses and the scent of blood haunt Norway each year at Easter, when people in this tranquil country traditionally curl up with a thrilling crime novel at their cabin retreats.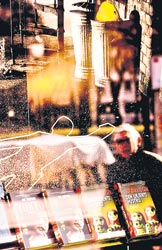 Easter crime novels displayed at a bookshop window in Oslo.
In what is undeniably an odd tradition -- and a far cry from the cheerful image of the Easter bunny hopping across fields to deliver chocolate eggs -- the Easter holiday in Norway is a time for crime.
Bookstore displays are full of detective novels, television and radio stations run crime serials and newspapers publish special literary supplements, all catering to Norwegians' thirst for thrills. Even the backs of milk cartons offer mysteries that need solving.
"Along with chocolate bars and oranges, the crime novel has its special place in Norwegians' backpacks as they head off for their Easter holiday," said journalist Nils Nordberg, a specialist on the subject.
In order to be properly devoured, the Easter crime novel should be read in the glow of a cozy fireplace at a secluded cabin that one can only get to by donning a pair of skis.
"The setting is ideal. You're in the mountains, far from everything. Outside, it's snowing and windy. What could be better than a few chills running
down your spine," said Nordberg.Getting goose bumps is a natural part of Easter, said Birgitte Lund, a 35-year-old advertising executive.
"When I was nine and we went to our family chalet I wasn't allowed to watch television, except for the half-hour of children's programming and the special crime serials shown on public service," she said.
But why does Norway, where bloodbaths, it must be said, are rare, choose Easter to delve into crime solving? According to one widely accepted theory, the tradition began in 1923 as the result of a marketing coup.
Breaking with a longstanding tradition under which new novels were only released in the autumn, the Gyldendal publishing house chose to launch a book by two young authors, entitled "The Train To Bergen Was Robbed Last Night"which was set at Easter.
Advertisements that resembled news items were published on the front pages of several newspapers, shocking readers who failed to grasp that it was a publicity stunt.
The initiative spread like wildfire among other publishing houses, and the crime novel became one of the few forms of entertainment available during the Easter break.
"Cafes, restaurants, cinemas ... at the time, everything was closed at Easter, which was supposed to be a time of introspection and repentance. There was no radio, and of course no television either. But everyone could read,"said Nordberg.
And so the Easter crime novel was born. And with it came a bevy of renowned crime authors, including Jo Nesboe, Karin Fossum, Anne Holt and Jon Michelet.
According to Jan Mehlum, a sociologist who has also written seven thrillers: "The genre has acquired so much respect that everyone, even intellectuals, can say that they read crime novels, without blushing." Over time, the setting has changed: the cabin retreats have gone from spartan to more comfortable, the isolated cabins are not so secluded anymore as little villages pop up along the mountainsides, and Norwegians increasingly choose sunny holiday destinations over wintry cabins.
But the tradition lives on."The crime novel is just part of the holidays," said Anniken Dingsoer, 50, after stocking up on good thrillers at an Oslo bookstore.
"When I was younger, my father read Jean Valjean to us. Since then, I've spent my entire life reading crime novels," said Dingsoer, a fan of PD James, Robert Wilson and Minette Walters.
She has only one regret: that her children prefer Harry Potter over Hercule Poirot.