Hasina slams Bangladesh poll delay
DHAKA, Tuesday (Reuters) - Bangladesh's former prime minister Sheikh Hasina reacted angrily today to a long delay in holding elections, calling it "undemocratic and unconstitutional".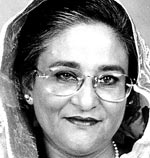 Sheikh Hasina
Hasina, chief of the Awami League and who is now visiting the United States, said in remarks published in the Bangladesh media on Saturday that people would run out of patience over the delay.
She accused the army-backed interim government of depriving Bangladeshis of the right to elect their own government, and recalled history to stress that no undemocratic government had lasted long in this south Asian country.
Bangladesh, which won independence from Pakistan in 1971, was ruled by army generals in one guise or another for 15 years until the end of 1990.
Hasina slammed remarks by Chief Election Commissioner A.T.M. Shamsul Huda last week that the commission needed at least 18 months to prepare a flawless voters' roll with photographs, before announcing a timetable for elections.
"My reaction is very clear. People will elect their government ... but the people are being deprived of their rights," Hasina told the British Broadcasting Corporation (BBC).
"Why this (interim government) needs one and half years (to make the voters roll)? Why did they fail to even start work on preparation of the electoral roll yet?" Hasina said.
The interim government headed by former central bank chief Fakhruddin Ahmed took over in January, with the full backing of the country's powerful armed forces.
It imposed a state of emergency and postponed parliamentary elections set for Jan. 22 following weeks of political violence and a crippling shutdown of transport and business.
The interim government has reconstituted the election commission and the anti-corruption commission while launching a massive crackdown on corruption and abuse of power, in which security forces have detained more than 160 key political figures.
They include Tareque Rahman, son of the most recent prime minister and Hasina's main rival, Begum Khaleda Zia. They will be tried by so-called quick trial courts, officials said. On Thursday, Huda said indoor political activity banned under the state of emergency would be allowed again soon so the commission could start talking to parties about the election.
He also proposed a set of electoral reforms including mandatory registration for political parties and restricting such registration to only parties who had won a seat in parliament in previous elections.
Hasina said the reforms were needed to rid politics of corruption and make elections free."This government has done some good work and we supported them," Hasina said. "But while we know reforms are necessary, it shouldn't be an excuse."
The interim government has said it will hold a credible election after completing electoral reforms and ending corruption. Khaleda, who ended her five-year term in October, gave no reaction personally to Huda's statement.
But a senior leader of her Bangladesh Nationalist Party (BNP) and former law minister Moudud Ahmed said a "voters' list can be prepared in a much shorter time, so the election is not unnecessarily delayed".