Ash gets gritty with domestic violence film
NEW DELHI, Saturday (AFP) - A new film in which Bollywood star Aishwarya Rai plays a victim of domestic violence could mark the high point of her career, trade pundits said, after the film opened in India on Friday.
"Provoked" is based on an autobiography by Kiranjit Ahluwalia who was jailed for killing her violent husband by setting him on fire in 1989 after having endured a decade of rape and beatings.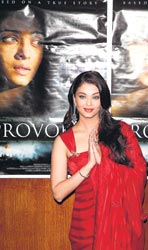 Bollywood actress and L'Oreal spokes model girl Aishwarya Rai poses for media during the launch of her film 'Provoked' in London, Tuesday, April 3, 2007. The film is based on Kiranjit Ahluwalia's autobiography 'Circle of Light' by Rahila Gupta which depicts her struggle in an abusive marriage. (AP)
The autobiography -- "Circle of Light" -- details how Ahluwalia was once threatened with a hot iron, which sparked the killing.
"This role is meant for Aishwarya. She looks coy and vulnerable and evokes empathy. I would say this is the best role of her career," said Bollywood expert Indu Mirani, editor of film website thirtymm.com.
Critics have often panned the former Miss World for her acting skills. But this time, Rai, 33, has garnered praise for her realistic portrayal -- a far cry from the trademark glitz of Bollywood films.
"Definitely, she has shown the pain of my life on her face," Ahluwalia told the Hindu newspaper. "She has done a very good job."Ahluwalia was charged with murder in 1989 and sentenced to life, but the punishment was reduced after pressure from activists which put the spotlight on domestic abuse.
Director Jagmohan Mundhra said Rai's allure for millions of Indians and an international profile would help pull in audiences for what is considered an unappealing topic in Bollywood, which mainly churns out candyfloss romances.
"It took me some time to release the film here because Indian distributors are not believers in non-formula films," Mundhra said.
"As for 'Provoked', so many people are interested in it because of Aishwarya," he said. "She is a brand name, recognised the world over.""The subject of the film is such that they needed someone like Aishwarya to pull people," said Mirani.
Rai's acting was also lauded at the London premiere of the film this week.
The film's prospects were expected to get a boost because of Rai's plans to marry actor boyfriend Abhishek Bachchan, son of Indian screen legend Amitabh Bachchan, later this month.