Lessons for Sri Lanka from the British High Commissioner Take advantage of economic miracle in India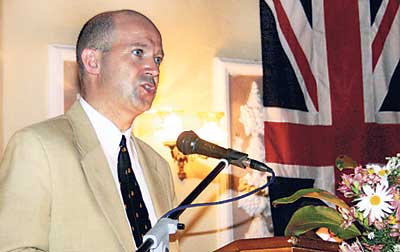 Dominick Chilcott
Sri Lanka should take advantage of the economic miracle taking place in India as the island nation is geographically very well placed to benefit from its giant neighbour's stunning economic growth. The country has a market of over a billion people on its doorstep. But if Sri Lanka is to make the most of this opportunity, its governance and its economic and business policies will need to adhere to the values of civil organisations such as Chartered Institutes. This was emphasized by British High Commissioner in Sri Lanka Dominick Chilcott when he addressed the inaugural ceremony of the Forum of Chartered Institutes in Sri Lanka in Colombo last week.
"The potential here is enormous. The opportunities from globalization and from integrating the economy with India's are huge. It would be tragic if, once again, Sri Lanka failed to achieve its full potential when an opportunity, like the present set of circumstances, came along," he said.
The Forum of Chartered Institutes was formed of all Chartered Institutes operating within Sri Lanka as branches of the UK institutes incorporated by the Royal Charter or those constituted by an Act of Parliament in Sri Lanka. The Forum was also expected to promote network and camaraderie amongst members of the various disciplines within the commercial and public sector and work without conflict to the furtherance of the institutional objectives of their disciplines.
Chicott, who was the chief guest at the ceremony, noted that strong civil society organisations are an essential ingredient of a healthy democracy and chartered institutes stand for a code of conduct, for certain values, values that underpin a rules-based system, a level playing field in business, predictability and fair play. It is important for Sri Lanka's future that these values should be reinforced, he said.
Referring to good governance, the British High Commissioner said that a coalition government is a very difficult thing to do well, even in the most politically stable and benign circumstances. Running a coalition government consisting of almost every party across the political spectrum looks like a very complicated undertaking. Managing that sort of coalition government while a 30-year old internal conflict flares up into something approaching a full scale conventional war must be very difficult, he added.
"The single, most significant factor that would guarantee the transformation for the better of Sri Lanka's economy would, of course, be a lasting peace. It must be frustrating that the hopes engendered by the 2002 cease-fire agreement have now been so comprehensively dashed," he said.
Delivering the address of welcome the President of the Forum of Chartered Institutes in Sri Lanka Fayaz Saleem said that it is the first time that these institutes are gathering under one umbrella to focus on mutual growth and improvement of all disciplines united under one forum and it would be of immense importance for the mutual benefit of its members whilst securing the interests of the various disciplines as well as being of economic benefit to the country.
CEO /DG of the Chartered Management Institute Mary Chapman said that organisations such as the Forum of Chartered Institutes could play a vital role in guiding authorities to devise public policy.