Year of crisis for Rajapaksa
International pressure as President prosecutes war
Lanka faces deep trouble at the UN, the EU and from India
JVP pulls away further as MoU with UNP flounders
By Our Political Editor
The dawn of the seventh year in the new millennium, paradoxical enough, seems more significant for what did not happen than what did.
For five successive years since February 2002, with a ceasefire in place, Sri Lankans as well as the world outside, had prayed in one chorus for peace to dawn. That was not only from their lips, but through greetings they sent each other as one year ended giving way to the other. Instead, an escalating undeclared Eelam War IV has made peace an increasingly distant dream year after year. So much so, in the years to come, questions fearfully linger whether prayers would shift from peace to wishing one another purely for their safety and well being.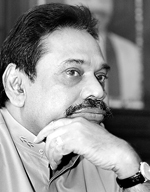 Mahinda Rajapaksa
The formidable challenge of averting that disastrous decline in the course of events still lay in the hands of President Percy Mahinda Rajapaksa. It was he who vowed 13 months ago, not to let that happen. That was during the 17 November, 2005 Presidential elections where a slender majority enthroned him to the country's top most post. Yet, events moved in a different direction from what he promised. Sri Lankans were assured of "peace with honour" in his election pledges. But they have war now.
Having worn the mantle of the presidency, Rajapaksa was unassailable. He faced little or no threat from his political foes. The main opposition United National Party (UNP) was there in the political firmament only by name and hardly identified itself forcefully with any national issue. That is of course with the exception of periodic media releases that were akin to voices in the wilderness. No issues, be it corruption, crime, cost of living, human rights, to name a few, were raised eloquently in Parliament or outside. No battles were fought on these issues and hence none was won. Thus, no impact was made in the public mind. Not even in the name of democracy where a vibrant Opposition, its life blood, leads to checks and balances in governance.
These turned out to be the biggest asset for the Mahinda Rajapaksa Administration. Yet, absence of an active Opposition did not mean a prolonged honeymoon. The conduct of defence and security affairs, or the lack of it, formed the nucleus or the mother of all ills. That appears to have taken away the soothing and smoothing effect caused by the absence of political Opposition. Despite a five-year long ceasefire, Security Forces and Tiger guerrillas are at war.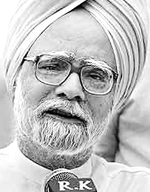 Manmohan Singh
And the future course of events to come was foretold in the recent weeks. This time the forecast did not come from the media. They could have been hauled over the coals if they did so, and qualified to become the accused for "passing information to the enemy." That is the new stick to beat the media over any ill-forebodings or "bad news." It came from the Commander of the Army, Lt. Gen. Sarath Fonseka. He vowed to re-capture the east and drive the LTTE out. Thereafter, he assured, his men would go for the North to defeat the LTTE there. Saying this is by no means to fault the powerful military strongman. As the top-most military official spearheading the military campaign against guerrillas, he knows what is in store.
The fact that he has said it publicly leaves no room for any ambiguity. It is now clear, very clear, that the military offensives will continue until the Tiger guerrillas are subdued, if not defeated. That would naturally draw counter attacks. The previous phases of Eelam Wars have seen how such bloody events have unfolded. There would naturally be a strong need for civilians on both sides of the battle lines to brace themselves for more shocks and sacrifices.
It is in this backdrop that President Rajapaksa faces new challenges in the New Year. They come from two broad fronts - internationally and domestically. In the international arena, a number of critical issues are in store. First, to a sampling of some international issues among many: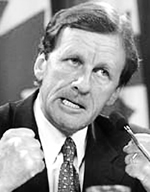 Allan Rock
UN Special Envoy Alan Rock's controversial report on the Sri Lanka Army helping the breakaway Karuna faction of the LTTE to recruit child soldiers will go before the United Nations Security Council. The Council is to discuss the issue this month. Would that lead to strictures on Sri Lanka by the world body? Besides media statements in Colombo and painting Mr. Rock's character black, has anything more been done to counter his assertions? The thrust of some Government spokespersons has been to dismiss the charges. Officials of the Presidential Secretariat, Foreign Ministry and the Attorney General's Department were busy in the past week formulating counter measures. In a bid to thwart a possible UN call to conduct a probe, a suggestion to appoint a Commission of Inquiry was also discussed.
Moves by the European Union to impose sanctions on Sri Lanka for violation of human rights and humanitarian laws come up for review in March, this year. This is under the aegis of Germany which has already assumed the leadership of EU. Germany has already suspended aid commitments to Sri Lanka.
The Donor Co-chairs of the peace process - the United States, Japan, the European Union and Norway - are also to begin a review of the Sri Lanka situation this month. It was only last month that top officials in the capitals of these countries held an international conference call to share the views on the situation prevailing then. There is greater significance now, particularly in the light of the decision by the Sri Lanka Monitoring Mission (SLMM) to withdraw all its ceasefire observers in the North and East to Colombo. If that underscored its inability to play a role in the light of escalating violence, it also made clear that like the peace process, the SLMM's role has also been reduced to paper. The Co-chairs will not only take cognizance of this fact but also the reality that the resumption of peace talks had become a virtual impossibility as the violence escalates. That the withdrawal of the monitors to Colombo received the concurrence of Norway, the peace facilitators, is no secret.
Many foreign governments have issued travel advisories discouraging their nationals from visiting Sri Lanka. For the first time during the five-year long ceasefire hotels and tourist resorts have been virtually empty. Some small time resort operators have stopped paying their employees and are providing them only meals. Five star hotels in the City faced one of their worst experiences on New Year 's Eve. Some even cancelled the revelries planned.
Contributing to the international dimension is a regional factor, the role of Sri Lanka's powerful neighbour India. More details of New Delhi's displeasure over the Rajapaksa Government are now emerging. During his visit to New Delhi in November, last year, officials bluntly shut out a photo opportunity during a meeting between Rajapaksa and Prime Minister Manmohan Singh. A distraught Sri Lankan official pleaded with their Indian counterparts to get the latter's side to get video and still camera operators to take photos and make it available. It did not meet with success.
Diplomatic sources say tensions increased further during the talks. When the Indian Premier's national security advisor R.K. Narayanan raised the issues of the Supreme Court ruling on the de-merger of North and East, a response by President Rajapaksa was viewed as a slight on Mr. Narayanan. Rajapaksa is learnt to have remarked that officials did not understand the gravity of the issue as much as political leaders.
This is reported to have had its sequel. The next day was the wedding of the daughter of Indian Minister Mani Shankar Aiyer. Premier Manmohan Singh and Congress Party leader Sonia Gandhi were to attend. Rajapaksa who was also taking part would have had a photo opportunity with the two Indian leaders. Cameramen in his official entourage could have utilized this occasion to make up for the missed photo opportunity. Alas, the timings had been changed. When Rajapaksa arrived at the wedding, both Singh and Gandhi had left. Were the timings changed by angry Indian officials?
Making things worse was another development. After many previous requests were turned down, Premier Manmohan Singh met a delegation of the pro-LTTE Tamil National Alliance (TNA) in New Delhi in November, last year. Both video and still photo camera operators were allowed to cover the event. Indian media, both print and electronic, were full of reportage on what the TNA delegation leader and Trincomalee district Parliamentarian, Rajavarothayam Sampanthan told Premier Singh. Even for a Congress Party dominated Government in New Delhi, that was bitterly opposed to the LTTE following the assassination of their leader and one time Prime Minister, Rajiv Gandhi, things appear to have changed. What were the major causes for such an imbroglio? Were these the result of foreign policy reversals and the local Brahmins of the Foreign Service, who spoke of lofty ideals, failing to do their job?
That no doubt has become an issue between President Rajapaksa and Foreign Minister Mangala Samaraweera. It began with a ding-dong battle over who would be the next Foreign Secretary. To his credit, Samaraweera is insistent in following time-honoured traditions by naming a senior career officer. But Rajapaksa wants retired UN diplomat Palitha Kohona, now head of the Government Peace Secretariat.
Tensions over the key appointment have reached a peak. Health Minister Nimal Siripala de Silva told close confidants that President Rajapaksa had offered him the foreign affairs portfolio but he had declined. He had said he would be happy to continue with the Health Ministry. If that claim is correct, angered by his inability so far to have his nominee appointed, Rajapaksa wants Samaraweera replaced. The President's first effort came when he sent his Secretary, Lalith Weeratunga, to Samaraweera's Paget Road residence to talk things over. Samaraweera stuck to his guns. Now, he has written a lengthy letter to his President setting out the issues and his own position vis-à-vis them. Samaraweera is also angered by the conduct of Rajapaksa's brother, the very powerful Defence Secretary Gotabhaya Rajapaksa.
It is coming in the backdrop of complaints that Samaraweera was continuing a close dialogue with former President Chandrika Bandaranaike Kumaratunga. Rumours that Samaraweera held a secret meeting with Kumaratunga on New Year's day at Kataragama had upset those in the dovecotes of power.
So much so, reports said, parliamentarian Mervyn de Silva was tasked to check on its veracity. He was to later report that it was only Samaraweera and his mother who had travelled to Kataragama whilst Kumaratunga had been in Matara.
Some confidantes of Samaraweera say he has been disappointed that Rajapaksa did not think it fit to invite him to meetings of the National Security Council. During the tenure of former President Kumaratunga, one of the notable participants at NSC meetings had been then Foreign Minister, Lakshman Kadirgamar. Instead, Rajapaksa had only invited the Foreign Secretary to take part. They say this was unfair, and that Rajapaksa should know how it feels as he was not invited to the National Security Council by Kumaratunga, even when he was Prime Minister.
On the domestic front, main among the issues that Rajapaksa faces is the deteriorating economic conditions. According to highly-placed Government sources, a confidential Central Bank report to Rajapaksa had warned of the dangers that lay ahead and fears of a possible collapse of the economy. The answer, it is said to point out, does not lay in the privatization of state ventures. Instead, it had suggested that future mega projects should be undertaken by the state in collaboration with the private sector. Whilst the rupee is depreciating vis-à-vis the dollar, in the recent weeks the Government has obtained a US $ 100 million loan from a Singapore bank to bankroll the economy.
The fall of the rupee against the US dollar has already led to a fuel price increase. A further increase in the near future will only skyrocket further the cost of living. This is at a time when the Government has to spend vast amounts of money on the war effort. An indication of its enormity can be seen from the cost of each 250 kilogramme bomb used by the Air Force to attack Tiger guerrilla targets. It costs US $ 2,000 or more than Rs 200,000.
Another domestic issue facing Rajapaksa is his Government's relationship with other political parties. The JVP is distancing itself increasingly and one of its leader, K.D. Lalkantha, has already declared that the Year 2007 would be one of protests or in other words strikes. Rajapaksa last week sought a meeting with the JVP. Their leaders view the request as another move at rapproachment but are not encouraged. They have, as one source said, given dates which are not in the immediate future. They see this again as a courtesy.
The Memorandum of Understanding between the Sri Lanka Freedom Party (SLFP) and the United National Party (UNP) is also in the balance. More so after Rajapaksa's declaration that at least 20 UNP parliamentarians want to join the Government. That leaves only one ally for the Government - the Jathika Hela Urumaya. Issue or no issue, they are sticking by the Rajapaksa Administration. This week a JHU MP was granted a plot of prime land in Kotte for a religious venture.
There were persistent reports that a section of the UNP was determined to cross-over and join the Rajapaksa Government. UNP MP Milinda Moragoda was one of those who went alone (accompanied only by a business magnate) to meet Rajapaksa at the end of last year.
On New Year day, reports reaching Colombo stated that UNP's erstwhile Deputy Leader Karu Jayasuriya has a tête-à-tête with Rajapaksa at the Kirivehera at Kataragama, and the topics discussed included a cross-over. On the record, Jayasuriya says that only "general issues" were discussed, while partaking in milk-rice, and he does not elaborate.
The next day, however, Rajapaksa told a meeting in Colombo where he was conferring permanent employment to casual cadres of the Road Development Authority (who are working night and day re-shaping the Colombo roads for new security related traffic arrangements) that " Ali pattau - ranchu pita " - or small elephants by the herd - are waiting to join him, so why should he have a snap election.
The JVP strongly believes that President Rajapaksa, contrary to all his denials, is setting the stage for a snap parliamentary election. Among other reasons, they believe the recent meeting of provincial councilors, addressed by the President, SLFP General Secretary Maithripala Sirisena and Advisor Basil Rajapaksa, was part of this move.
Protagonists of the Government argue that many development projects launched by the Government have been shrouded by other developments. Hence, a larger segment of the public was unaware. They say an international conference hall much larger than the BMICH was now being constructed in Hambantota. It was a gift from the South Korean Government. New power projects have been launched. A large number of bridges were being constructed.
All these developments make 2007 a decisive year, one that is going to pose a formidable challenge to President Rajapaksa. Losing old friends and making new, waging war to win peace amidst a deteriorating economy are just a handful of issues.