Paddlers differ as other Sri Lankans stick to script
Sri Lanka's Table Tennis players Tilina Piyadasa and Rohan Sirisena managed to win their first round matches of the men's singles tournament of the Asian Games after a struggle here at the Al_Arabi Indoor hall yesterday.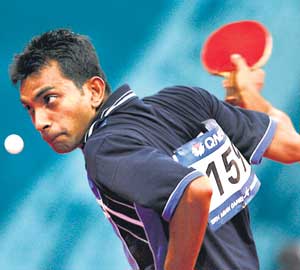 Sri Lankan table tennis player Thilina Piyadasa competes against Yemani Wael Al Qershi in the Men's Singles round of 64 match at the Al-Arabi Sports Club- AFP
Sri Lankan number one Piyadasa was stretched to a six setter by Wael Al Qershi of Yemen while Sirisena survived a five setter against Sirodjiddin Ismoilov of Tajikistan.
The Yemen player won the first set against Piyadasa at 15-13, but the Sri Lankan provided a strong reply by grabbing the next three straight sets 12-10, 11-5, 11-7. However the Yemen player hit back in the fifth set winning it 11-7 to make sets 3-2, before Piyadasa finally finished off his task with a 11-7 sixth set win in the best of seven set match.
Sirisena had a relatively easier match winning the first two sets 11-6 and 11-8 before conceding the third set to the Tajikistan player at 7-11 but came back to finish things off, winning the fourth and fifth sets 12-10 and 11-3 again.
Unfortunately the TT players were the only Sri Lankan players to survive the first day of competition as all other Sri Lankans lost badly without a fight.
Sri Lankan shooters, swimmers, chess players and beach volleyball players did no fare better than expected, being knocked out in the first round heats itself yesterday.
Sri Lanka swimming team captain Mayumi Raheem who competed in the 50 metres breastroke was the best among Sri Lankans managing to be the only swimmer from the country not to finish last in a heat. Raheem clocked 36.14 seconds recovering from a slow start Raheem was 2.65 seconds off the pace of the winner of the heat, while two swimmers from Brunei and Macaus were the only competitors that finished behind her.
China also won the team gold in the event.
The two Sri Lankans in the women's competition of the same event performed no better being knocked out unceremoniously last morning. Priyanthi Kumar Ilangaratne finished 46th while Devika Ranasinghe finished 49th out of a field of 54 shooters with average point scores of 9.475 and 9.425 respectively in the event which was won by Li Du of China who scored 9.950 average points to claim the third gold for China at the Games. China also won two more golds in shooting in the women's trap individual and team events while gold in women's 48 kg weightlifting for Mingjuan Wang had already given six golds to China, a clean sweep of all golds on offer by afternoon on the first day of competition at the Games.
Meanwhie Sri Lanka's biggest hope in boxing Manju Wanniarachchi suffered a humiliating defeat at the hands of Tilek Saparbek of Kyrgyztan in the first round bout of Bantamweight (under 54 kg) at Aspire Hall last evening by a massive margin of 23 points. The nippy Kyrgyztan boxer prevailed in no uncertain terms winning four rounds 12-6, 11-2, 9-5, 6-2 for an unassialable 38-15 lead at the end of the fourth round for an easy points win.
Sri Lanka women's beach volleyball team also suffered a pathetic straight set loss.
Sources said that Sri Lanka contingent's Chef de Mission Dian Gomes who did not turn up in Doha in time to take part in the opening ceremony parade as scheduled is down with Chikun Gunya fever and is resting at home