Pommies pummel dad's army
* Collingwood only the third English batsman to score double century in Australia
Adelaid, Sat. Paul Collingwood altered the course of the Ashes cricket series with a milestone double century and a 310-run partnership with Kevin Pietersen on the second day of the second test Saturday.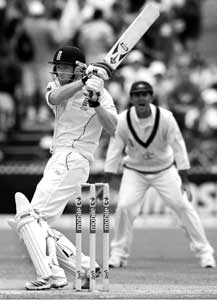 Paul Collingwood hooks one to the fence as Ricky Ponting (R) yells during the second day's play. -Reuters
When Collingwood was out a ball before tea for 206, having borne England's innings for more than 6 1-2 hours, he had become the first English batsman to record a double century in Australia for 70 years.
His 354-minute stand with Pietersen at the Adelaide Oval embraced almost three full sessions, carried England from 158 for three to 468 for four and put the tourists into a controlling position.
Pietersen only briefly outlasted his partner and was out for 158 _ dismissed at that total for the third time in his meteoric 12-month-old test career.
After a momentary slip when three wickets fell for 23 runs, England was able to declare at 551 for six, with the match under its control and the series balanced.
Australia was 28 for one after nine overs at stumps, with Pietersen contributing a catch to further Australia's decline, and some of the force of the psychological blow struck against England when they won the first test at Brisbane by 277 runs had been dissipated.
Justin Langer was the Australian batsman to fall, caught off captain Andrew Flintoff's bowling for four.
England realized after its poor performance at Brisbane that the outcome of the Ashes series would pivot around events at Adelaide.
Australian coach John Buchanan said he wasn't surprised by England's resurgence.
''I think we would have expected that, certainly after the first test, that the opposition side would regroup,'' said Buchanan. ''It was a good toss to win and to go out and put those runs together was a good reply.''
Collingwood came to the crease on Friday when England was 45 for two, when both of its openers had been dismissed and when its decision to bat on winning the toss was being questioned.
With immense patience, he formed two separate partnerships which rebuilt the innings and set the series on a new course.
He first put on 113 with Ian Bell (60) for the third wicket, carrying England to a more respectable 158 for three.
Then Collingwood and Pietersen formed a partnership which lasted from tea Friday to the same interval on the second day and which contributed 310 runs to England's cause, leaving them 468 for four.
''From the mental side, he's great to bat with because he's so relaxed,'' Collingwood said of Pietersen. ''He's aggressive and he's easy to bat with but we have a good laugh which is the key thing.''
A later unbroken partnership of 60 between Andy Flintoff (38 not out) and Ashley Giles (27 not out) enabled England to declare 10 overs before stumps.
The total was England's fifth highest in an Ashes test in Australia, still paling against their 628 at Sydney in 1928-29 but through the unassuming Collingwood and Pietersen, the record book had still be substantially revised.
Their partnership was the highest for the fourth wicket by an England pair in an Ashes test, surpassing Graham Thorpe and Nasser Hussain's 288 at Edgbaston in 1997.
It was the highest for all wickets for England in Adelaide, exceeding Walter Hammond and Douglas Jardine's 262 in 1928-29. Further, it was the fifth-highest for all wickets by England in Ashes tests and the second highest by an England pair in Australia, second only to Jack Hobbs' and Wilfred Rhodes' 323 in 1911/12.
Collingwood was only the third Englishman to achieve an Ashes double century in Australia after Reginald Foster and Walter Hammond, who achieved the feat on three occasions. His score was the highest by an English batsman at Adelaide, surpassing the 187 of Hobbs.
Shane Warne and Glenn McGrath, two of the greatest bowlers in cricket history, had one wicket between them at the end of play at a joint cost of 274 runs.
Warne took 46.2 overs to claim his first wicket _ Geraint Jones for one _ and sent down more deliveries between wickets that at almost any other time in his career. He conceded 100 runs without taking a wicket against England for the first time and finished with one for 167 from 53 overs.McGrath acknowledge the ironic cheers of the crowd when also conceded a century, giving up 107 runs from 30 overs without taking a wicket.