Diluka Dilshan a rising swimming prospect
For 14 year old Diluka Dilshan Tobbotumunuwe, it was a well deserved victory at the recently concluded Madras Districts Aquatic Association Triangular Swimming Meet in Chennai when he walked away with two gold medals doing both the country and his family proud with his achievements.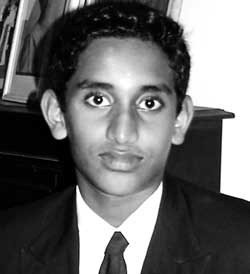 Diluka Dilshan
The first international medal for Diluka has come after years of practising the sport that he loves and for which he has won 39 medals , 22 of them gold, at school level at Ananda College, and at junior national level championships. The event brought together swimmers from Sri Lanka, Gujarat and Chennai. In Chennai he received the gold medal for the 50 metres breast stroke clocking 34.23 seconds as well as the gold in the relay item.
For Dilkua his newest achievement is only a stepping stone for far greater success he hopes to achieve. "I want to go for the South Asia Federation games as well as the Olympics," said the ambitious young lad for whom the early morning practises from 5.00a.m to 7.00a.m. is a daily routine which he enjoys very much. "I don't mind the early morning practices because I love to swim," Diluka told The Sunday Times.
Diluka is not the only family member who has shown an accomplishment in swimming. His father, Wing Commander T.C.B.J.Tibbotumunuwe , a decorated Sri Lanka Air Force pilot who as killed when his plane was shot down by terrorists in 1995 was himself the recipient of many certificates for swimming for his alma mater Ananda College and also won in several sea swimming competitions during his time. Diluka's older brother Menuka too a Ananda College swimming champion for several years before he decided to give up to concentrate on his studies.
"My favourite events are the 50, 100 and 200 metres breast stroke and this was my father's favourite event too," Diluka is coached by SAF games swimming champion Julian Bolling who has also encouraged him to keep up with the hard work.
Diluka has also been supported by the Sri Lanka Air force as well as friends of his father particularly for his recent trip to India where he did not disappoint those who placed their confidence in him to do well.