Sri Lanka's 'best' Australian citizens feted at awards night
Sri Lanka's 'best' Australian citizens were feted at the prestigious Serendib Awards night held at the Crown Palladium in Melbourne before a gathering of 700 guests recently.
The brainchild of Serendib Newspapers Business Editor Virosh Perera and wife Geethika, the Serendib News, Business and Community Awards is designed to recognise excellence among Sri Lankans in Australia who are actively contributing to the betterment of the community both here and back in their homeland.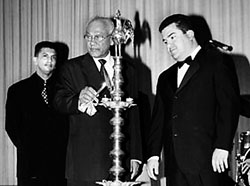 Mr. Balapatabendi lighting the traditional oil lamp at the awards ceremony watched by Victorian Minister for Tourism and Multicultural Affairs John Pandazapolous and Roshan Mahanama
Victoria's Minister of Tourism and Multicultural Affairs John Pandazopolous who was chief guest at the event said, "This is a great example of the benefits of multiculturalism and a fantastic way for the community to come together and celebrate the State's cultural diversity. The Sri Lankan community has contributed much to Australia. The government will continue to provide financial and marketing support, and we are eager to develop such events".
Sri Lanka's High Commissioner to Australia Kusumsiri Balapatabendi who was among the distinguished guests present commended the community for its efforts in promoting multicultural values. Mr. Balapatabendi said, "The Sri Lankan expatriates in Australia find their missing roots on this foreign soil thousands of miles away from their motherland because of these activities. I am fully confident that the community involvement will continue its invaluable service with further improvements in years to come." Chief organiser Virosh Perera said, "This event also commemorates the endeavours of people past, which have brought the Sri Lankan community to where it is today. The combined efforts of today and yesteryear have made it possible for Sri Lankans to leave an indelible mark in Australia. And we continue to grow stronger."
The awards categories were media, sports, entertainment, business, youth, community and lifetime achievements.