'A dance for my mother'
A tribute to Linda Pieris on her 10th death anniversary, 'Reflections,' is an evening of dance presented by the Nelung Dance Academy. "It is a memorial to my mother who was extraordinarily talented and for the sacrifices she made," Principal of the Academy, dancer and teacher Niloufer Pieris says.
The programme to be held at the Lionel Wendt at 7 p.m. on December 13, will feature a variety of items beginning with a selection of music, played on the piano by Menaka De Fonseka Sahabandu.
It will be followed by the grade 8 Award – a performance syllabus not normally seen on stage but brought to the Colombo audience with the permission of the Royal Academy of Dance (UK) and featuring Wendy Perera and Sureni Salgado who achieved excellent results in their exams last year and have graduated to the BA Honours dance programme in Singapore.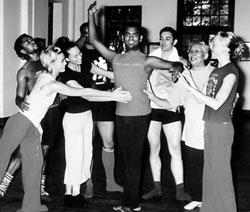 Rangika (centre) and Niloufer (second from right) with the Battery Company dancers.
It is said that dance transforms images, ideas and feelings into sequences of movement that are personally and socially significant. The 15- minute segment from Shadows, an anti-war play showing children in war by Ravindra Ranasinghe comes next.
The versatile Rangika who danced with the Battery Dance Company on their recent visit has choreographed the next item entitled 'Bonnika'. The dance performed to Sinhala music makes a social comment that depicts the woes of today's children who do not have time to play. "It is a remarkable perception by the 23-year-old," Niloufer says.
In contrast, the next segment features Angels - choreographed by Niloufer and performed to sublime music by Bach; Prayer by Wendy Perera - a solo on 'Pointe'; 'That Rainy Day' by Niloufer to a song by Frank Sinatra; Dance Dialogues that shows that art crosses all borders and Mood Moves a dance by Rangika who is originally a traditional Kandyan dancer. The item choreographed by Niloufer shows the basic connection between all dance styles.
The final section of the programme will see items by Mohan Sudusinghe in a playful interpretation of Bach showing his fine dance style, Rangika and Mudriga in Storm, a fusion of Kandyan Dancing and Bharatha natyam to the music of Vivaldi, You and Me against the world – sung by Helen Reddy and dedicated to all mothers and finishing with 'Kol Nidrei' a Jewish lament, a particular favourite of Linda Pieris as a fitting tribute to her. "We have enjoyed putting the programme together," Niloufer remarks.Her students most of whom have been with her for a period of time were active participants at workshops conducted by the Battery Dance Company that provided the much needed exposure to new trends.
A dedicated teacher, Niloufer thinks that those who have the talent should have an outlet to develop. From her own experience she knows that training can be tough. "It is a hard road – you need to be disciplined and dedicated and have the desire to go the whole way." She thus often counsels students on the inner workings of the profession – that they be able to cope with the pressure, be highly competitive by nature and also accept failure at times.
The Nelung Dance Academy has over the years featured and promoted local talent. Thus part of the proceeds will go towards a scholarship for a talented student. Tickets priced at 500, 400, 300 and 150 will be available at the Lionel Wendt from December 5.