Everyday struggles spiced with laughter
Ashok Ferrey talks about his new book The Good Little Ceylonese Girl
The stories are like picture postcards. Colourful, vivid, capturing significant moments in time – and, if you look a little closer, with a deeper message between the lines. They explore the circumstances of Sri Lankans caught in the struggle for individuality in foreign lands, asking the perennial questions, 'Who am I? What am I?' And as you laugh at the wildly entertaining things they say and do, you are left with a little bit of nostalgia for the Sri Lanka and Sri Lankans who 'might have been'.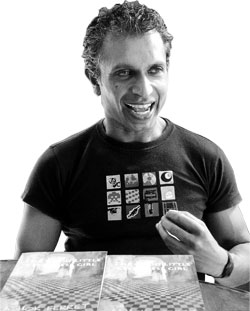 Ashok Ferrey: "The book is about the politics of identity"
"It's about the politics of identity," says Ashok Ferrey, of his new book, 'The Good Little Ceylonese Girl'. The stories, which are illustrated with charming sketches by him, reflect the questions he feels strongly about – Why do we Sri Lankans have no confidence in who we are? Why do we only appreciate ourselves when foreigners do? Why do we lack identity? As in his previous bestselling work, 'Colpetty People', humour, irony and pathos blend to create memorable characters and incidents that search for answers but do not really find them. "I hate stories where everything is in black and white," he says, "for me; it's really all those shades of grey."
Ferrey, who calls himself "an accidental writer", has also been, and is, many other things – professional builder, mathematician, personal trainer, husband, and father to his two teenage sons. Having taken to writing since the age of 19, Ferrey feels that the loss of his father after a severe illness six years ago was what opened the floodgates, and made it easier to express the thoughts and emotions within. His best writing is done when under severe stress, he muses. And though it was initially nerve-wracking for him to publish his stories, he was both amazed and pleased by the enthusiastic response of readers to his first book.
"A writer has to leave a little bit of himself in the book," he says, "like when you go into a room and realise that someone you know has been there before."
True to his word, little glimpses of him are recognisable in the book. All the characters struggle to reconcile the different aspects of their personalities – something he still tries to deal with, he says. The nervous little writer in the story titled 'Maleeshya' whose name is changed from 'Arishtabotale Pereira' to 'Ashok Ferrey' by the editor of a society magazine, to make it more 'reader friendly', the Sri Lankan who hires out his house for films, plays minor parts in them and enjoys the eccentricities of the cast and crew. Ferrey's own magnificent home has been one of the sets in the film, 'Water' with him and his family playing minor roles in the film, he says with a grin.
Almost half of Ferrey's life was spent overseas, in Europe and Africa, and the experiences in those countries have lent an exotic timbre to some of his stories, while remaining Sri Lankan at heart. The title story of the book is a patchwork of a past life in East Africa and the present set in Europe – of dark memories, the breaking away from inculcated morals - that ends with a strange twist that sends shivers down your spine.
All the time he was living abroad, he knew that he would come back to his homeland someday, says Ferrey, and he has no regrets about this choice. "Sri Lanka is such a huge mishmash of communities and cultures, yet each of us likes to think we are special," he says, adding that humour is a great leveller in this case, and that's what his stories, perhaps sometimes unintentionally, try to do.
Another issue that concerns him is that Sri Lanka is "a terrible place to grow old in." Loved ones are less willing to look after us, he says, and neither does the State. His story, 'But Did I Tell You I Can't Dance' explores this situation in a tale that is filled with hilarity while probing the question.
The edge of some of the more controversial themes in the stories is taken away by the gentle humour and witticism of his writing. A young girl, volunteering in the rescue efforts in the aftermath of the tsunami, meets a woman from Los Angeles and falls into what he describes as a 'homotextual' relationship, as they text each other on their mobile phones throughout the night. The whole liaison comes to an end when the American gets a call from her 'wife' back in LA.
Many of the characters and situations are so close to home, that you feel they might be either yourself or some one you know. "As artistes we have a duty to produce things that we will all be able to talk about, that will draw us together," says Ferrey, "If you can get others to empathise with you, you've done your job."
Is there a novel in the works? "Perhaps," he laughs, admitting that he finds short stories much easier to write, since the writer is not compelled to resolve certain issues, as in a novel. "I just want to strike a resonance and leave it," he says. And it is certain that the reverberations created by his stories in 'The Good Little Ceylonese Girl' will leave a lasting impression.
The book will be launched on December 9 and 10 at Odel, and readers are also welcome to give their feedback on www.ashokferrey.com.