A golden harvest
Having cleared many hurdles, Jamis, the 87-year-old running-farmer from Udawela does Lanka proud at the Asian Athletic Championships in Bangalore
He went after much uncertainty, selling 35 precious bushels of paddy for a pittance, he ran and he triumphed.
Yes, 87-year-old Wissahapurage Jamis, a humble farmer from Udawela, in Balangoda has bagged three golds and two silvers at the Asian Athletic Championships held in Bangalore from November 14-19.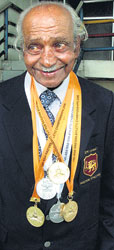 A proud winner of two golds and three silvers.
On his return from Bangalore, all smiles and clutching his medals, the first visit he paid straight from the airport was to The Sunday Times offices to thank the newspaper for highlighting his plight in finding funding to take him to the championships in India. The article published on October 22, headlined, 'At 87, all he wants is to run' saw a few generous people extending a helping hand to Jamis which enabled him to take part in the championships.
He has won gold for the 200-metre and 400-metre races and also the putt shot and silvers for the 100-metres and the five-km walking race.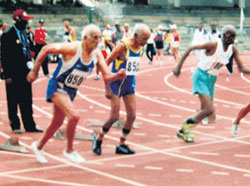 Ready to go: Jamis (2nd from left at the starting line)
Jamis had never indulged in sports when he was young. Learning to read and write only up to Grade 4, he had left his books behind to help his family in the rice fields. But at the urging of his son W. Nimal Weheragoda, this senior citizen had taken part in the 20th Annual Masters' Athletic Championship in Colombo held in July, striking gold.
Proud of the fact that he had in a small way contributed to making the Sri Lankan flag fly high in Bangalore, Jamis who had never been on a flight before in his life says he enjoyed the journey to India. "It was an experience," he says, seated by his 80-year-old wife, Baby Kajuwatte.
Married for more than 60 years, Baby Kajuwatte says he was always a clever man. "He still cuts the firewood for me and brings water for me to cook," she says, as Jamis tenderly pats down her hair for the photograph. The family, along with Baby Kajuwatte, had hired a van and gone early morning to meet Jamis at the airport.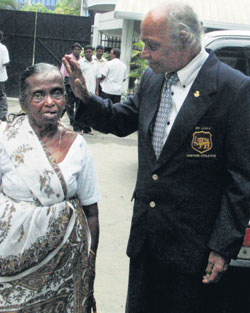 Jamis gently pats down Baby Kajuwatte's hair as they get ready for a photograph.
Pic by J. Weerasekera
My dream has come true, says Nimal who himself won bronze at the championship, satisfied that he was able to take his father to Bangalore after suffering loku paduwak (huge losses) by selling 35 bushels of paddy (one bushel is 21 kilos) they had been stocking up to sell when prices improved. "To make some initial payments for the Bangalore games, we sold a kilo at just Rs. 10," he says adding that he is very grateful to the people who responded to his father's need.