Living in darkness and in despair
I had planned to send a fax message on October 26 to the District Secretary and Government Agent Jaffna on the precarious situation in Jaffna, but there was no electricity supply on this day. There was no supply even on the 27th. For the past few days electricity is being supplied for about nine hours daily.
A few days back there was no supply for a continuous 37-hour period with a break of one hour. If there is a shortage of fuel to operate the generators then action should be taken to send the required amount of fuel immediately. It should be remembered that if there is no electricity more kerosene oil will be needed.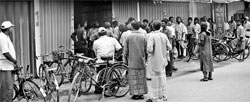 People queueing for bread outside a Jaffna bakery.
Due to electricity being in short supplys I am compelled to use more kerosene oil which is also not available freely.
Raw white rice, raw country rice, noodles, green gram, gram, tea, coffee, cereals (for babies) and baby food among other food stuffs are in short supply.
There is an acute shortage of food drinks such as Milo, Viva, Horlicks. None of these items has been issued by the co-operative stores for the past 2 ½ months. I need hardly mention that these energy-giving food drinks are required by elderly persons, invalids, children etc. Only two packets of milk powder have been issued during this period.
People do not exist only on rice, sugar, dhall and wheat flour. They require many other items such as garlic (which is Rs. 1400 a kilo in the market) salt, dill seed, pepper, fennel seed, turmeric, coriander etc.
Hardly any kerosene oil has been issued by the co-op stores during the past 2 ½ months. This is an important item used by all households but it seems that no action has been taken to get it down in sufficient quantities.
During the rainy season there is an increase in mosquitoes, but mosquito coils are not available.
Due to the shortage of country raw rice Anna Industries are not making and distributing roasted rice flour used for preparing string hoppers and pittu. This item is very handy as people need not take the trouble to make rice flour.
According to a news item in the "Thinakaran' of October 29, Minister Jeyaraj Fernandopulle had said that all foodstuffs, drugs and other items required by the peninsula are being sent by ship despite the closure of the A 9.
If this is true there should be no shortage of petrol, diesel, kerosene oil, LP gas etc. The real position is that everything is in short supply including electricity.