Apocalyptic scenes in Philippines after mud slides
LEGASPI, Philippines, Saturday (AFP) - Apocalyptic scenes greeted rescue workers as they arrived in the eastern Philippines Saturday to begin the grim search for bodies buried by mud slides that swept away villages killing hundreds. As the Philippine airforce C-130 transport plane swept over the city of Legaspi at dawn the scene was one of total devastation.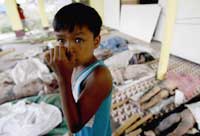 A boy covers his nose as he walks past the bodies of mud slide victims in Guinobatan town, Albay province, south of Manila. Reuters
Much of the city had been torn apart by the fierce winds wrought by typhoon Durian on Thursday. In the distance Mount Mayon volcano could be seen, streaked with the grey-brown ash and mud that cascaded down its slopes smothering everything in its path.
So far more than 400 people are reported either dead or missing but the number is expected to rise as roads are cleared throughout the Bicol region and rescue teams reach communities that have been isolated since the typhoon hit destroying communications, power and transport links. All that is left of many villages that once dotted the slopes of Mayon are broken bamboo poles jutting from the mud.
Local resident Jun Rogando said that he passed a funeral parlor with about 15 bodies lying outside on the sidewalk because they could not be accommodated inside. "Residents said they would have a mass burial in the afternoon because they are starting to stink," he said.
In Legaspi City itself, people have streamed in from the surrounding countryside, mostly poor farmers, dazed and bewildered looking for shelter and food. Residents resorted to hiking to streams and lining at deep well pumps for water.
For three hours on Thursday, torrents of mud roared down Mayon's slopes burying houses up to their rooftops, and rocks said to be as "big as cars"tumbled down. "The disaster covered almost every corner of this province," governor Fernando Gonzales said.