Bengal Tiger Line celebrates 20 years
Having survived two decades of difficult trading conditions, Feeder veterans Joachim von der Heydt, BTL's Owner, and Bill Smart, BTL's Managing Director, were recently in town to host a lively cocktail function at the Waters Edge this week, the company said.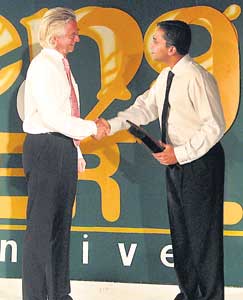 Picture shows Saliya Wickramasuriya (right) presenting a memento
Bengal Tiger Line (BTL), one of the renown pioneers of Common Feedering in the region, has over 20 vessels trading in the Indian Sub Continent area. Associated with introducing the 'Shuttle connection' concept BTL connects Colombo port to eight destinations on weekly or twice weekly sailings and are known for their reliability and endurance.
Simultaneously celebrating one decade of local agency activity BTL Lanka's Managing Director and Sri Lankan Partner, Ranjan Ratnasingham, jointly hosted the show. Presenting mementos to BTL for their 20th year were Saliya Wikramasuriya, Chairman Sri Lanka Ports Authority and Stephen Edkins, CEO of South Asia Gateway Terminals.
Von der Heydt also gave away the longest outstanding staff award to Jude Benedict, Deputy General Manager Operations BTL Lanka (Pvt) Limited who had been with BTL since its first call in Colombo.