Terror strikes again, what next?
If the top man in defence establishment cannot be protected, then who is safe?
Prabha's speech indicates ceasefire is finished and full-scale war on the cards
Govt. considers tough measures such as re-imposition of PTA and new Emergency Regulations
The story did the rounds during a previous ceasefire and peace talks. Liberation Tigers of Tamil Eelam (LTTE) leader Velupillai Prabhakaran held a meeting with his fighting cadres. He was asked whether the LTTE's acceptance of a ceasefire amounted to abandoning their armed struggle. It was not so, he replied.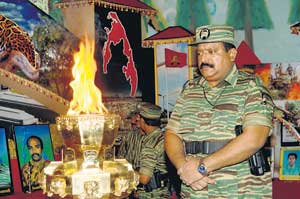 LTTE leader Velupillai Prabhakaran just before he began his "Maveerar" Day address.
He had said that the LTTE had embarked on a journey to achieve its goal of Eelam. Such a journey, he had explained, was long and arduous. Every now and then, they had to stop and rest before proceeding. Such stops were called peace talks.
That message, understanding the enemy, their psyche and intentions have been lost on successive Governments that stopped waging war to prosecute peace. The latest peace process, the result of the Ceasefire Agreement in February 2002 between the then United National Front (UNF) Government and the LTTE was no different. That is despite the ongoing undeclared Eelam War IV completely obscuring the peace process that is now in the throes of its death. With the LTTE pronouncing the demise of the ceasefire, and the Government set to follow with tough retaliatory measures, it will soon be a declared return to the battlefield.
During its honeymoon with the then UNF Government, the LTTE won many a concession to become a strong entity both militarily and politically. How it happened and what the guerrillas won are now history. Time and again many aspects have been highlighted in The Sunday Times.
One secret that can be revealed today will highlight the scant regard, if not a contemptuous attitude to national security aspects. In the past years, some elite sections of the intelligence community were aware, at least 24 hours ahead, about what Mr. Prabhakaran would say in his "Maveerar (Great Heroes) Day" address. This led to behind-the-scene activity in the security establishment.
But, all that ended in November 2002. The UNF Government allowed the LTTE to import VSAT equipment together with six tons of broadcasting transmitters for the Voice of Tigers (VoT) radio station. Special privileges were granted to clear the items from the Customs and armed escorts were provided to transport them up to the guerrilla held Wanni frontlines. The result - the LTTE established independent communication links with the outside world. State intelligence agencies were no longer able to intercept their communications.
Activities of military intelligence were also paralysed after the Police raid on their safe house in Athurugiriya. The VSAT or Very Small Aperture Terminal is software-driven earth station used for high speed transmission of data, video or voice via satellite. With the help of a dish antenna, this enabled the LTTE, to carry out voice communications, transmit data or pictures via satellite without interception by any outside source in Sri Lanka or abroad.
In November 2003, then President Chandrika Bandaranaike Kumaratunga took over the Defence portfolio (together with Internal Security and Mass Communication) from then Prime Minister, Ranil Wickremasinghe. It was on the grounds that national security was in grave danger. Little or nothing was done to deal with such dangers. Corruption in military procurements thrived. Details of how the billions and millions were made by those in uniform backed by those outside it are now unfolding before Presidential Commissions of Inquiry. She then blamed the media for highlighting corrupt deals.
Later, she called for parliamentary elections. Now, she has declared she regrets having done that. It was a mistake, she says. Mistake or not, the colossal damage done to national security interests is irreparable. Some of them cannot be catalogued for they are too sensitive. Most of the damage cannot be restored by the expression of regret even if they are voiced ad nauseum from platforms she abhorred earlier.
President Mahinda Rajapaksa's administration followed in November, last year. Since then, both the Security Forces and the LTTE have been blaming each other for a rise in violent incidents. Mounting threats from the LTTE prompted enhanced security measures. One key area is the City and suburbs where such measures were intensified. Heightened search operations delayed traffic entering or leaving the City for several hours. Consequently, flights were delayed from the country's only international airport at Katunayake.
One hardly misses an armed soldier, sailor, airman or policeman during a short journey in the City or suburbs. Sand filled barrels form a protective wall around most of them. A common scene is vehicles being checked. Doors are kept open as troops search meticulously. Some even creep under the vehicle. Yet, instances of spontaneous discovery of explosives or bombs through such searches are not known. They have come about only through tip-offs. Nevertheless, such enhanced measures act a deterrent and are essential.
But a very crucial question comes to the fore. Are these measures preventing Tiger guerrillas from carrying out attacks in the City of Colombo? Or, is it not happening because the guerrillas or even others choose not to do anything? When they do, then alarm bells ring. One such instance came amidst tight security precautions. That was the murder in broad daylight of Tamil National Alliance (TNA) Parliamentarian Nadaraja Raviraj on November10 at Narahenpita. CID detectives are yet to round up the culprits.
And now, a more shocking incident came when Gotabhaya Rajapaksa, Defence Secretary, escaped a bomb attack near the Turret Road - Flower Road junction on Friday morning. Details of how it happened appear elsewhere in this newspaper. The incident is a scathing indictment on the entire security establishment. Quite clearly, someone somewhere failed to do their job and prevent that incident from happening. This is not a case of looking for scapegoats to place the blame after an incident has taken place. Preventive action should have been taken not because Gothabaya Rajapaksa is the brother of President Mahinda Rajapaksa.
He is the Secretary to the Ministry of Defence, the man who is personally responsible for running the armed forces and the police. He is the administrative head of the defence establishment. If he cannot be protected by the very establishments that he is giving leadership to, there is something rotten. How can anyone else, including lesser mortals, expect protection? It does not take even a schoolchild to say lessons are not learned from past incidents.
On August 12, 2005, Foreign Minister Lakshman Kadirgamar was assassinated by a Tiger guerrilla sniper. There were lapses in close protection. On April 25 this year, Army Commander Lt. Gen. Sarath Fonseka survived an attack by a female suicide bomber inside Army Headquarters. Here again there were lapses in close protection. Then Pakistan's Ambassador Bashir Wali Mohamed escaped death on August 14 in a bomb attack along Green Path. Here too there were lapses in close protection. Were such lapses studied carefully and syllabuses on VIP protection updated? Who was responsible for this failure? If it was done, could not Mr. Rajapaksa's near brush with death have been prevented? It was sheer providence and his bullet proof BMW that saved him.
What is clear from these incidents is the fact that show of heavily armed presence with motor cycle escorts alone is not adequate. Besides recourse to deception, a more important question that begs answer is the degree to which personal protection groups are kept up-to-date on intelligence on enemy activity and plans becomes a very critical factor. This is for many reasons. In this instance, the attempt on the life of Mr. Rajapaksa came just three days after the "Maveerar (Great Heroes) Day" address by Mr. Prabhakaran.
In Colombo, a sizeable segment of the defence and security establishment was lukewarm about what he said. The general consensus was that there was nothing new in his address. That may be true in a general sense. But what most failed to realize was the purpose for which he said what he did. That was both significant and important. He was recording them to explain and even justify the actions the LTTE planned to take in the days, weeks and months ahead after the address.
Were the nuances of such assertions studied closely by the security establishment? Would it not have been possible to identify threat factors if indeed such a close study was carried out? In such an event, would it not have been possible to warn the likely targets. The fact that Gotabhaya Rajapaksa was a high profile target is no secret. It was well known that the Tiger guerrillas targeted both him and Lt. Gen. Fonseka for many months. Such warnings would have become inevitable if one closely followed some elements of Mr. Prabhakaran's address and the resultant developments. Some of them are fraught with danger and deserve to be discussed in the public interest.
Here are a few such notable highlights in Mr. Prabhakaran's address:
The Rajapaksa regime hopes to decide the fate of the Tamil nation using its military power. It wants to occupy the Tamil land and then force an unacceptable solution on the Tamils. Due to this strategy of the Rajapaksa regime, the CFA has become defunct. The Rajapaksa regime, by openly advocating attacks on our positions, has effectively buried the CFA…
This is a clear declaration that the ceasefire is no longer valid since the CFA is "defunct" and "buried." The statement is cleverly nuanced and couched in diplomatic terms to obviate the need to give two week's notice to abrogate the CFA. The reference thus seeks to justify any future military action by the LTTE. They could argue the CFA is no longer in place. Charges on using military power is to seek justification for attacks by them.

The Sinhala government has imprisoned the Tamils in their own land after closing its main supply routes. Having removed their freedom by restricting their movement and constrained their lives, it is inflicting great suffering on them. It has split the Tamil homeland, set up military camps, bound it with barbed wire, and has converted it into a site of collective torture……………… At the same time our people are subjected to an inhuman economic embargo on essential items including food and medicine……….Our people are faced with unbearable burdens in their daily lives………The Rajapaksa regime, while conducting genocide of the Tamils, is portraying our movement which is waging a struggle to save the Tamils from this genocide as a terrorist organization.
The remarks underscore threats to the civilian sector. Whilst "threatened villages" that lay on the border of guerrilla-dominated areas can become vulnerable to attacks, the remarks are also a veiled threat on civilian targets. The idea is to impose greater hardships on them.

We postponed our plan to advance our freedom struggle twice to give even more chances to the peace efforts, once when the tsunami disaster struck and again when President Rajapaksa was elected. It is now crystal clear that the Sinhala leaders will never put forward a just resolution to the Tamil national question. Therefore, we are not prepared to place our trust in the impossible and walk the same old futile path. The uncompromising stance of Sinhala chauvinism has left us with no other option but an independent state for the people of Tamil Eelam…..
The freedom struggle referred to is the separatist war. Mr. Prabhakaran says that was postponed twice and hints that it has now resumed. This, he claims, is because Sinhala leaders will never put forward "a just resolution to the Tamil national question." Hence, he implies that war (or freedom struggle) is the only answer to achieve "an independent state for the people."
Once the All Party Conference lost its deceptive power, President Rajapaksa has taken up his next card, the MoU between the two major parties…….These two parties will never put forward a just solution to the Tamil issue. Despite this, the Rajapaksa regime continues to show interest in keeping the All Party Conference alive simply to deceive the world.
This effectively rules out any acceptance by the LTTE of devolution proposals the All Party Conference will formulate. Thus, the LTTE leader has made clear, in diplomatically couched language, that a resort to war is the only answer. That is why he has asked "the international community and the countries of the world that respect justice to recognize our freedom struggle."
The lukewarm response in the defence and security establishments to Mr. Prabhakaran's speech was further confounded by another development. This was a meeting Anna Johansdottir, Head of the Crisis Response Unit of Iceland's Ministry of Foreign Affairs, and some SLMM officials held with LTTE Political Wing leader, S.P. Thamilselvan in Kilinochchi. Later, SLMM spokesman Thorfinur Omarsson was quoted in Colombo media as saying that the guerrillas had not withdrawn from the Ceasefire Agreement. Such an assurance had been given by Mr. Thamilselvan, he was reported to have remarked.
However, on Thursday night the pro-LTTE Tamilnet website denied reports of LTTE's continued commitment to the CFA. A report said:
"Director of LTTE's Peace Secretariat S. Puleedevan and Military Spokesman of the LTTE, Irasaiah Ilanthiriyan Thursday jointly dismissed press reports that cited SLMM officials as saying that the Tigers had conveyed a message to Colombo following the policy address by the LTTE leader. "Our National Leader, in his policy address, has clearly explained everything that was needed to be conveyed to Colombo," Mr. Ilanthiriyan said. The LTTE leader, Mr. Velupillai Prabhakaran, in his policy address on Heroes Day had accused Colombo of having conducted the funeral rites of the Ceasefire Agreement without tearing it apart."
Any doubt about the future of the CFA was cleared when LTTE "Military spokesman" declared that it had been laid to rest after Colombo had conducted the last rites. If that emerged clearly on Thursday night, should not the security establishment have taken notice of it? Was it not a clear message that the CFA was no more and the remarks were again an attempt to justify any future attacks? Why was it not known that such attacks could undoubtedly cover important VIP targets?
It is imperative that President Rajapaksa appoints a competent team of serving and retired senior security specialists to probe this aspect and punish those responsible for the lapses. It can also be a means through which faults in the VIP protection system can be rectified. This is the only way one can make sure such lapses do not recur. The fact that Gotabhaya Rajapaksa escaped unhurt should not let this matter end in the limbo of forgotten things. Since former Pakistan's envoy Bashir Wali Mohamed escaped death from a bomb attack on August 14, security arrangements in Colombo was heightened. This, no doubt led to work of Tiger guerrilla cells operating in the City and suburbs being disrupted. However, intelligence sources say it was relaxed after the murder of Mr. Raviraj. Proof of this came in the modus operandi used for the attempted assassination of Gotabhaya Rajapaksa.
He was traveling to "Temple Trees" for an unscheduled meeting of the National Security Council on Friday morning. He traveled during an irregular time and was to tell President Rajapaksa that the meeting would have to start late. The Air Force and Navy Commanders were out of town on an important assignment and were not due till late that morning. Moments before he left, his wife had departed in a BMW vehicle that resembled his own bullet proof one. It is thus clear he was under close watch. Criminal Investigation Department detectives found that the guerrilla who is suspected of driving the explosive laden three wheeler scooter wore a hands free kit. It was connected to an expensive Motorola mobile phone. The phone was found intact at the scene of the incident. The attacker's body lay atop a Double Cab sans his head and one arm.
They found that the owner of the phone was a resident in Wennappuwa. However, calls from the telephone had all been between the attacker and someone in Vavuniya. Detectives believe a handler in Vavuniya was giving instructions to the attacker. All others monitoring Gotabhaya Rajapaksa's movements were reporting to this handler who in turn gave orders to the attacker. That way the guerrillas had made sure the identities of those monitoring the Defence Secretary's movement would not be revealed.
This matter gains significance in the light of Tiger guerrilla infiltration in the security establishment. An Army Major who once served in Vavuniya was under close watch. This was following a tip-off that he had developed connections with the LTTE. The watch continued after he was transferred to Overall Operations Command (OOC), Colombo. Two weeks ago, he was arrested and handed over to the Terrorism Investigation Division which functions under DIG (CID).
The man has confessed to receiving vast amounts of money from the LTTE for exchange of information. He had procured a lorry and a bus. Police have seized the lorry and are on the lookout for the bus. He had said he gave the LTTE information on the movements of the late Lt. Gen. Parami Kulatunga, then Deputy Chief of Staff of the Army. Last week his brother had visited him at the CID's fourth floor headquarters in the New Secretariat building. He had confessed to his brother that a sum of Rs 500,00 he had lent another brother came from the Tiger guerrillas. The distraught brother committed suicide by plunging into the Bolgoda Lake. At that time he tried to snatch his daughter from the arms of his wife but failed.
In another development, the Commander of the Navy Vice Admiral Wasantha Karannagoda is to Court Martial officers responsible for lapses that led to the guerrilla attack on their base SLNS Dhakshina in Galle. As a prelude, two senior officers have been ordered to record summary of evidence. One is Rear Admiral Somasiri Dassanayake who is probing aspects relating to the Southern Command. The other is Commander S.M.B. Weerasekera who is focusing on lapses at SLNS Dhakshina.
Friday's incident coupled together with assertions in Mr. Prabhakaran's address has prompted the Government to consider strong action. Yesterday, it was considering a string of tough measures. They include new Emergency Regulations to punish those dealing with "terrorist organisations" and the re-enforcement of of the Prevention of Terrorsim Act (PTA).
A moratorium on enforcing it was one of the articles in the CFA. These developments make clear that the ceasefire, like the peace talks, is now over. It will now be a continuation of Eelam War IV with the battle lines clearly defined. Tough times are thus ahead.