Back under their own roofs now
* Sanath Jayasuriyagama and Marvan Atapattugama handed over to the tsunami victims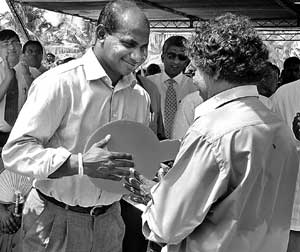 Sanath Jayasuriya handing over the keys to one of the recipients at the Sanath Jayasuriyagama. (Pix by Ranjith Perera)
Though she does not celebrate Christmas, M. Gunawthi and her fisher family of Batheegama would have never had the faintest notion that on December 26 2004 they would end up as homeless refugees as victims of their provider – the sea. But, the cruel Tsunami did not favour nor was it forgiving. It engulfed almost the entire sea coasts of Sri Lanka and so many other nations leaving a trail of tragedies that will take many…. many generations to forget.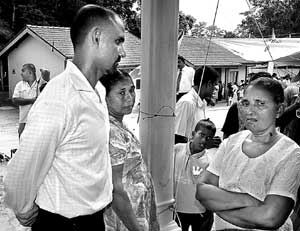 Marvana in conversation with one of the housewives.
However on Friday Gunawathi along with ninety-nine families proudly moved from the tents that they were living to brand new houses when Sri Lanka Cricket handed over ninety-nine houses in Dickwell and Deundera to mark the contributions of two of their southern sons with the handing over of Sanath Jayasuriyagama and Marvan Atapattugama.
On the 10th of November 2006, both villages were a hub of activity, some were there, eagerly waiting to receive the keys to their houses, while the younger generation were waiting just to be with their hero's who other wise only would come into their homes when the television is on.
The building of houses was a joint effort of Sri Lanka Cricket and the international agency World Vision. First it was the opening of the Sanath Jayasuriyagama, but ironically Sanath had to rush back to Colombo soon after the handing over of the keys of the houses, to represent his club Bloomfield in their Premier League opener against the strong Ragama CC at Reid Avenue.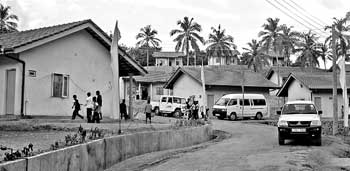 The Marvan Atapattugama
But, once we moved to Deundera the things moved at an easier pace as Marvan Atapattu had taken leave from his club to take part in this endeavour.
Marvan had the time to move around the people talk to them and see what he could do to ease off the terrible memories they had of the Tsunami. He lamented "These are the very people who cheer us and give us all the encouragement to carry on with our deeds on field of cricket nationally and internationally. I am grateful that we can give something back to them even in a very small way. This is only the beginning. I intend coming back to these people when ever the time permits, and be with them and share their experiences".