"My heart surgeon is a gift from heaven"
How a team of top UK doctors flew to Sri Lanka to heal broken hearts
Surgeon Conal Austin has just finished a 14-hour stint saving lives. And he's still smiling. "I have the greatest job in the world," he says. "I get to fix people's hearts."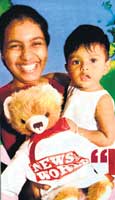 Mum Indika is thrilled that son Tharushan is now well.
Conal, a consultant at London's Guy's and St Thomas' Hospital Trust, is one of the UK's top heart surgeons. After saving the life of Sri Lankan businessman Jai Lameer, Conal told Jai he'd like to operate on children with heart problems in Jai's home country. Jai made his wish come true and, a few months later, Conal and a team went on their first mission.
Now Conal and his colleague, Dr. John Simpson, a consultant paediatric cardiologist, run annual surgery trips to Sri Lanka and have set up an official charity, the aptly-named Mercy Mission.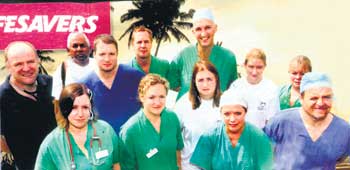 The team from Guy's
In five years, they've operated on over 50 kids suffering from severe heart conditions.In September thanks to the News of the World, their trip took them to Galle, on the south-west coast. Nearby Karapitiya Hospital has a large cardiac unit where surgeon Dr. Namel Gamage operates on some 900 patients a year.
When the team arrive, they have the difficult task of deciding who to operate on. Hundreds of kids come from all over the country and they treat as many as they can in a week. And judging by the response from the hospital staff, as well as the happy faces of the children they operated on last year, they're doing an amazing job.
"You can see it's transformed their lives," says Conal. "We gain a lot from these trips and so do the local doctors and the patients. We just need to raise more money so we can come again next year and many more years to come."
(Courtesy News of the World)
"I'm a survivor"
Sunethra Sandharuweni was seven days old when she was diagnosed with a heart problem. The youngest of three, Sunethra's parents, Wimalasena and Dhamawathie, were desperate to help their only daughter.
The local doctors didn't know how to treat her, so they went to several hospitals to get tests. Wimalasena had to give up his fruit selling business as he was spending so much time travelling and it was so expensive.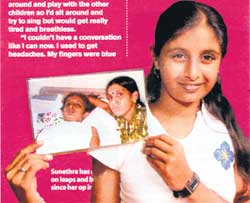 Sunethra has improved by leaps and bounds since her op in 2001
Eventually, when she was 16, she was treated by the first Mercy Mission trip. The op has enabled her to live like a normal girl.
"Before the operation I couldn't walk far without getting out of breath," Sunethra explains.
"I'd feel faint a lot of the time. At school, I couldn't run around and play with the other children so I'd sit around and try to sing but would get really tired and breathless.
"I couldn't have a conversation like I can now. I used to get headaches. My fingers were blue and my lips were dark.
"I have completely changed since having the operation.
"Now I'm cured I can play and run and exercise like normal children.
"I like dancing and can ride a bicycle and play football.
"I was a bit scared when I went for my check-up with Dr. Simpson this year as I thought I might need to be operated on again. But I don't, so I'm really happy.
"My life has been saved by the Mercy Mission team and I feel so much gratitude towards them. It's a gift from heaven.
"My parents never expected we would have the chance for a normal life again. We pray for the doctors every night."
At last her pain is over
Rishmia Banu is eight and has been suffering from serious heart pain since she was very small.
Her parents, Shuhana and Mohamed, first took her to be examined when she was 18 months old. When she was four, Rishmia was referred to a private hospital in Colombo, 70 miles from their village.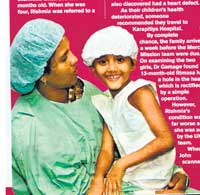 Rishmia Banu and mum Shuhana
However, they asked for large fees that the couple struggled to raise. When Rishmia was six, Shuhana and Mohamed had their second daughter, Rimasa, who they also discovered had a heart defect. As their children's health deteriorated, someone recommended they travel to Karapitiya Hospital.
By complete chance, the family arrived a week before the Mercy Mission team were due. On examining the two girls, Dr. Gamage found 13-month-old Rimasa had a hole in the heart, which is rectified by a simple operation.
However Rishmia's condition was far worse and she was seen by the UK team. When John scanned Rishmia, he discovered she had the same abnormal coronary artery as another patient, young Tharushan Pathiraja. As she was much older, aged seven, she had also developed angina. Two days later, Shuhana brought Rishmia down to the operating theatre.
The operation went well. By the afternoon, she woke and asked for water. The next day she was moved to the children's ward.
"I've been in and out of hospitals for seven years since Rishmia was born," reveals Shuhana. "She was in pain everyday before the operation. But now she's much happier. I am so grateful."
Success against the odds
Tharushan Pathiraja is the only child of Indika, 23, and Janika, 26. Now 14 months old, he has suffered exhaustion since birth.
The couple spent their savings travelling to hospitals to find out what was wrong with her son.
Dad Janika works as a driver, so their funds soon ran dry. But they were finally referred to Karapitiya Hospital in Galle, 150 miles from their hometown. There they heard about the Mercy Mission team.
When John examined him, he found Tharushan had a heart defect called an anomalous left coronary arising from the pulmonary artery, which meant his heart wasn't functioning at its full capacity.
Untreated, the condition usually proves fatal and the operation has a very high failure rate. His diagnosis understandably left the family devastated. The condition is so rare, it was only the third time Conal had come across it. But the operation went smoothly.
When Tharushan woke from his anaesthetic during the night, he even tried to climb out of bed. Later that day, he was moved to the children's ward.
"Although it'll take months, maybe years, for his heart to fully recover, it's improved already," explains John. Indika adds: "Now my child is well, we'll have a much better life."
How they're still helping
"Transform the lives of sick children by donating to Mercy Mission, so that next year Conal's team can help even more kids. For details, log on to www.newsoftheworld.co.lk. You can also visit www.mercymission.co.uk, call 020 8660 0363, or write to 66 Simtham Downs Road, Purley, CR8 4NF. Donations can also be sent to Guy's Mercy Mission to Sri Lanka, account 69631328, sort code 602407, Nat West, 98 High Street, Wimbledon SW19 5ZH. Make cheques payable to Guy's Mercy Mission Sri Lanka.
"You see your work transforming people's lives."