Together from here to there in search of beauty
A new book by a father and daughter duo explores not only the wonder of butterflies but also their journeys of five years
The butterflies of Sri Lanka – gorgeously coloured and touchingly fragile - flit and flutter across the pages of a new book to be launched on the 14th of this month. The result of a five-year collaboration between Arittha and Ariesha Wikramanayake, it offers much more than images and explanations – instead this book is an experience, taking the reader along with a father and his young daughter as they explore the wonders of nature together.
The book in its entirety - from photographs to text – is credited to Arittha Wikramanayake and Ariesha, and one has only to turn a few pages to appreciate how successful the partnership has been. Filled with insights, explanations and a prodigious amount of information, Butterflies of Sri Lanka makes for surprisingly easy reading, in most part due to the light yet informative tone set by the writing and the colourful photographs. The book will appeal to young and old alike, offering nature lovers a much awaited look at the island's butterflies.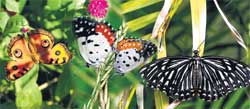 Chronicling 170 out of approximately 190 known butterflies in Sri Lanka, the book is fairly comprehensive, and excludes for most part only species that exist only in the inaccessible northern reaches of the island or those that haven't been seen for many years. The butterflies featured are divided into several categories, namely: Papilionidae, Pieridae, Danaidae, Nymphalidae, Libytheidae, Acraeidae, Satyridae, Lycaenidae and Riodinidae. With lifespans that range between two weeks to a couple of months, butterflies come in a charming variety of sizes and colours, have distinct preferences in terms of diet and habitat, are known for their love of mud puddles and the delight they take in the sun.
Those who consider butterfly photography a trial in patience best left to professionals, are right on only one count, according to Mr. Wikramanayake. Patience is the big P of butterfly photography, but there is plenty of room for amateurs. Having begun taking photographs five years ago (when Ariesha was only 8), the two enthusiasts started out with a 30,000 rupee, point-and-shoot digital camera. Then, without the benefit of advanced lenses or complex technology, they proceeded to take pictures of the country's butterflies. The result? A stunning collection.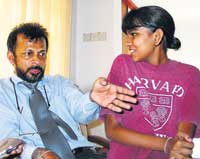 It was only when they took their first picture of a butterfly in the garden, and then tried to identify it that they discovered a dearth of good reference books. "There were actually only two books at that time that helped you to identify (local) butterflies," explains Mr. Wikramanayake adding that both were very difficult to find, and exorbitantly priced. In addition, each book seemed a little study in cruelty – featuring for most part butterflies that were netted and pinned before being photographed. As their distinguishing colours hadn't been authentically reproduced in print, the whole purpose seemed to be defeated. Here was a real hole in our knowledge, one which Mr. Wikramanayake and his daughter were determined to fill…their way.
In getting the pictures together, "not a single butterfly has been harmed," emphasises Mr. Wikramanayake, saying that all of them have been photographed in their natural environment. "We are proud to say we did it the hard way, never netting, pinning, or freezing a butterfly, or even digitally altering a picture to get the image." In an attempt to faithfully depict these creatures in all their beauty, the father and daughter have closely studied their subject, and though they make no claim to being Lepidopterists or expert photographers, in their own fashion they now seem to be both. Ariesha herself loves butterflies and enjoys figuring out why "they do the stuff they do". The bright-eyed 13- year-old says she enjoys almost everything about her trips with her father – including the early morning wake-up calls, which she describes as 'fun'. Even the fear of leeches (the biggest pests on expeditions of this sort) has been conquered, and Ariesha has been known to collect them in jars and let them 'walk' on her hand.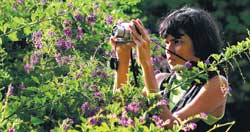 "We spend a lot of time together," says Mr. Wikramanayake, describing the close relationship he has with his daughter. Working together on their project has only strengthened that– waking up at 4:30, travelling long distances together and hours spent patiently waiting for the moment to be exactly right. Even so, they have not always got their butterfly. "If all the butterflies were lined up, waiting to be photographed, there would be no challenge," he says philosophically.
Despite all this dedication, Mr. Wikramanayake professes no great passion for butterflies. Instead, a desire to expose his child to nature in all its wild beauty lies at the heart of this initiative.
" ...Butterflies really open your eyes to nature in every possible way," he says, "you learn about trees, about food plants, about host plants, it takes you all over the country, it tells you about the weather…and that's the best thing about it – that it opens your eyes and shows you what's around you."
He considers this opportunity to get around and explore the country with Ariesha infinitely preferable to sitting around watching T.V.
It helps that butterflies are all around us, says Mr. Wikramanayake, adding that even in cities they flutter in and out of sight – in gardens and parks and also in bus depots.
"Some people thought it was impossible to do…when I tell people I did this book with Ariesha, they look at me with disbelief, but Ariesha could probably identify more butterflies than me," he adds proudly.
Arittha Wikramanayake heads his own law firm and Ariesha attends Ladies' College, and yet the two of them have carved out the time and the effort to make the impossible, possible…and they hope to again. In the future, the duo intends to involve Ariesha's elder sister in a book on Sri Lanka's wildflowers, hunt up the missing twenty butterflies and continue to explore and appreciate the world around them.