This article is part of a continuing series on the 'Mahavamsa,' the recorded chronicle of Sri Lankan history
Prince Jagathpala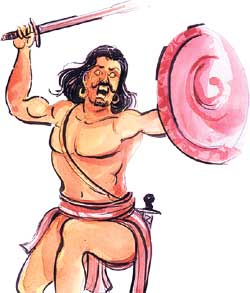 1. Prince Jagathpala's forces found it difficult to face the enemy. But they continued to fight, without retreating. As time passed, his army began to fight very violently. Yet, it was all in vain. One by one, their soldiers fell dead, as the Chola warriors struck them. In spite of all odds, Prince Jagathpala's army did not want to surrender. They fought till the last.
2. Before long, Prince Jagathpala fell victim to the Cholas. The Cholas began rejoicing. They took Prince Jagathpala's queen and the daughter as prisoners. They were first sent to Polonnaruwa, and later on to the Chola country. The Chola soldiers went on a plundering spree, in the South. Prince Jagathpala's rule lasted for four years. He passed away in 1046 AD. It was Prince Wickrama-pandu's son who took over the rule.
3. He was Parakrama Pandu by name. He wasn't a clever ruler. As such, he failed to win the hearts of his people. He could rule only for two years, as the Cholas decided to attack. They killed this prince too in 1048 AD. By this time, there was an independent rule, in the Kataragama area, under a commander named Lokeshwara. No one dared fight against him.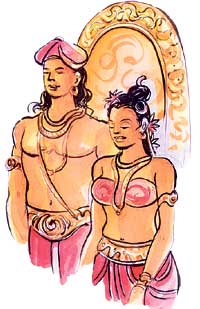 4. Even the Cholas were frightened of this ruler. They decided not to go that far. Lokeshwara was a very strict ruler, who took firm decisions. This earned him a lot of enemies. But no one showed any opposition openly. So he was able to rule Kataragama for six years. He died in 1054 AD. A leader named Keshadhatu-Kashyapa then took over the rule. He was able to win the people of Ruhuna to his side. Cholas came to fight him too. But Keshadhatu-Kashyapa managed to defeat them. He camped his army at a place called 'Rak-pahana.'
5. This place, 'Rak-pahana,' is considered to be today's Rakwana. Meanwhile, the people of the South were talking about a prince who claimed descendancy to the line of Sinhala kings. His claim to royalty is explained thus. King Mihindu V is said to have an uncle who lived a very ordinary life. He is said to be a very kind, religious and a generous person. He had two daughters, named Deva and Lokita. Lokita, the younger one was pretty and intelligent too.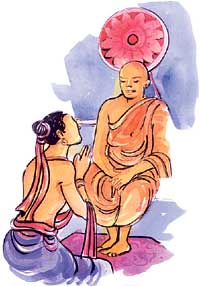 6. This princess possessed very good qualities too. She was very patriotic and was concerned about the country, the people and the religion. Prince Kashyapa, who belonged to the Manavamma line of kings, got married to her. They had two sons named Mugalan and Lokaya. As the country was under foreign rule, they lived in hiding. Prince Mugalan, from his childhood was religious. He used to observe sil on all four poya days of the month.
7. This prince was very generous. Big and small, all were treated alike by him. These qualities made him win the love and regard of everybody. Through respect, the people called him 'Mahasami.' This Prince Mugalan, got married to an equally good princess. She was named Buddha, and belonged to the Dathopatissa line of kings.
8. This royal couple had three sons. They were Keerti, Mihindu and Rakkhita. They had an only daughter, named Mitra. The eldest of them, Prince Keerti, was quite different from the other children. He was very intelligent, strong and showed extra brightness and skill, even when he learned the arts. He was very clever in archery. As a young prince, he was very worried about the fact that the Sinhala people were under foreign rule. His mother was in the habit of narrating stories about ancient warrior kings, who were real national heroes. These also contributed to a large extent, to make Keerti, a brave prince.