'Ayurveda Pavilions' : The world of relief and happiness
The second week of 'Jetwing - TV Times Vacation Competition' will feature 'Ayurveda Pavilions' in Negombo.
This competition is organized by Jetwing Group of Hotels together with TV Times, in which TV Times readers can win lots of weekend vacations, dinner vouchers, gift vouchers , Spa treatments and many more.
This will enable our ardent readers to win their holidays by answering simple questions. All you have to do is to read the story and answer two simple questions given in the coupon below and post it to the address give.
All answers should be on TV Times Coupon No 2 and no photo copies are valid for the competition. All entry coupons should be pasted on post cards and sent to, 'Jetwing - TV Times Vacation Competition - 2', C/o TV Times, No 8, Hunupitiya Cross Road, Colombo 2 on or beforeOctober 20.
'Ayurveda Pavilions' in Negombo.
The family of Jetwing Hotels has set new accents in caring for their guests and is able to offer traveller a journey to a new dimension in the unique resort town of Negombo.
Beyond the features of sand, sun and surf unfolds a journey to your inner self that could be discovered at the new 'Ayurveda Pavilions'- Jetwing Hotel, which commenced operations in November 2002. This is the first purpose built health holiday complex on the west coast.
This is a first class health retreat with 12 Luxurious Bungalows that ensure maximum privacy each consisting with its own garden. The idyllic resort is designed for people seeking in-house Ayurveda Therapy in quiet peaceful surroundings to enjoy in seclusion that is specially created for this purpose as the architecture has avoided interfering with the natural environment and has maintained harmony in the existing landscape.
Ther are two type Of Villas at the 'Ayurveda Pavilions' : 'Queen Size or Medium Luxury Villas' and 'King Size Villas or Super Luxury Villas'.
Room facilities includesopen air bath with shower, T.V, Individual CD/VCD player, Hot & Cold Water, Safe in Villa, hair dryer, A/C, fan, telephone and mini fridge.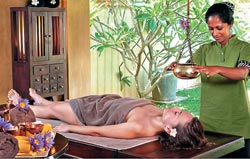 A special treatment
The Resort is on a strict health regulations and the restaurant serves only Ayurveda cuisine and tropical fruits.
'A'la carte menu to ensure your senses are taken care' a spokesman from the Resort said.
'In-house Ayurveda therapy center', 'A team of experienced doctors', 'Sports and recreation', 'Ayurveda Boutique', 'Swimming Pool', 'Meditation/Yoga', 'Authentic Ayurveda cooking demonstrations' and 'Lectures by Ayurveda Specialists' are some of the special features at the 'Ayurveda Pavilions'.
'Thus, you can meditate and enjoy the peace and solitude to find your personal inner balance, cleanse your body and soul with the thousand year old Ayurveda method by allowing fresh herbal oil to penetrate your skin with soothing energy' said GM of the Resort.
Hence, Jetwing Hotels invites guests to touch base with 'The Knowledge Of Life' and experience the therapy of caring hands at the 'Ayurveda Pavilions'