Anti-Norway activist commits suicide outside embassy
A man who believed that Norway was betraying Sri Lanka's national interest set himself on fire outside the Norwegian embassy in Colombo and later died in hospital, eyewitnesses said.
This first ever human torch incident took place a day after the JVP planned a march to the Norwegian embassy but was blocked by the police.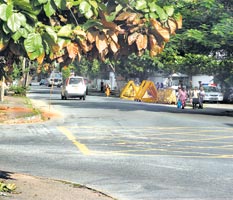 The scene where Raymond Ferreira (below) turned himself into a human torch near the Norwegian embassy protesting over what he saw as Norway's betrayal of Sri Lanka. Pix by M. A, Pushpakumara.
Eyewitnesses and family members said 45-year-old threewheeler driver Raymond Ferreira had brought a bag of posters and a can of fuel to set himself on fire outside the embassy.
They said he had been an active trade unionist but had no connection with the JVP or any other political party though he had joined the JVP protest rally on Wednesday.
The eyewitnesses said Mr. Ferreira, a father of three from Ratmalana, had carried posters accusing the Norwegians of being white Tigers and telling them to get their paws off Sri Lanka.
Colombo DIG Pujith Jayasundara said police investigations revealed the man was carrying posters but Cinnamon Gardens Inspector S. M. Keerthipala said they still did not know why he set himself on fire.
A security guard at a nearby building said the man was in flames when police guarding the Norwegian embassy and the people helped to put out the fire. He was rushed to hospital in a police car.
Mr. Ferreira's family members said he had left home on Thursday morning telling his wife he wanted to pay the premium for their life insurance. He had made the payment at an office in Ratmalana and sent the documents to his house through a friend.
"My father was critical of Norway and believed it was betraying our country. He believed they should be expelled from Sri Lanka. He was a man who loved the country. He wanted me to join the army and said he would have definitely joined the army if he was not overaged," Mr. Ferreira's son, Suresh Chamara, said.