Feel the vibe
The Sri Lanka Youth Parliament also known as SLYP who's aim is to mobilise and create a network of young people in order to bring about a positive and sustainable change to issues which affect youth and their communities, in Sri Lanka hopes to create an action-based islandwide network of young people.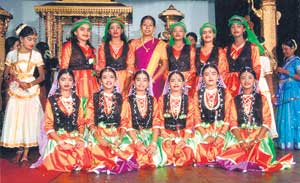 One of the participant schools
A project of The Bandaranaike Centre for International Studies the SLYP, had their first sitting from August 24 to 28, last year where 215 youth raised many issues affecting them and their communities. The action areas these youth put forward were as follows: Peace Building, Environment, Human Rights, Education, Youth Empowerment, Youth Employment, Sustainable Development, Child Rights, Youth Culture, Women's Rights, Health and HIV/AIDS. These practical and some what simple action plans have to now be implemented by the SLYP.
One of the main obstacles the SLYP have had to come across in implementing these plans was funding. Therefore, they have organised a fund raiser, Vortex Vibe, an evening of music and dance. It is notable that the concert coincides with their first anniversary. With the use of the funds they generate from this project they aim to start up a mini grant system to help push these action plans forward. Among the items to be performed will be dance items by the Oriental dance troupe of Ladies College, they will be performing two Kandyan Dance items. Bharatha Natyam will also be featured on that day by Hindu Ladies College (Siva Kazhalagam Vidyalaya). In the singing category, the St. Cecilia's choir of St. Joseph's College will be perform, while a mix of drum beats and ethnic Sri Lankan flavour will be presented by the Hewisi band of S. Thomas' College, Mt. Lavinia.
The programme will also feature an oriental instrumental performance by the highly acclaimed, Siribora and Charin (Jada) will take the stage with an acoustic performance.
A punk rock band, calling themselves, Bikini Bottom will also make an appearance.
Four items, three vocals and one dance item, will be dedicated to the action plans, in keeping with the aim of the organisers. Auditions were held and the performers were chosen for these items. The performances will be by the Arcadians, a group from Puttalam. This outfit have performed previously with the famous 'Iraj.' The group also consists of a member from the SLYP. H. A. Udani Punsisi from Galle will be performing a dance item. Shamir Zawahir, from Kandy will be one vocalist performing that evening, the other being, Anjula Varushavitharana from Colombo.
What they aim through this concert is to promote ethnic harmony and bring out the talents of the action partners.
The co-sponsors for this event will be ACBT, IDM – an affiliated University College, Achievers and Queens Radio. While Yes FM and Y FM will be the media sponsors. The sound sponsors will be Swedish Trading Company Ltd.
Vortex Vibe will be held on Saturday, October 14, 2006 at the Ladies College Auditorium at 7 p.m. Tickets will be priced at Rs.500, Rs.350 and Rs. 250 and will be available at the SLYP Secretariat, Bandaranaike Centre for International Studies, BMICH, Bauddhaloka Mawatha, Colombo 7. You can telephone them on 269 8019 Ext: 7030, 7020, 7031.