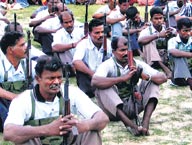 This week's picture of civilians being trained at an LTTE camp in Kilinochchi to act as defenders of their villages.
FINANCIAL TIMES
Hayleys improving local image
The Hayleys Group, more successful overseas than in Sri Lanka, is undergoing a re-branding process and giving...
No way with Norway
A Norwegian oil deal with Sri Lanka is ending up with three different view points amongst government authorities and the Norwegians, lucratively, up on the deal.
Indian doctors not keen to leave Apollo
Analysts said, the 350-room hospital's earnings have been relatively disappointing since its inception and its premium pricing strategy and service charges targeting....
SPORTS
Quest for another feather
"I feel fine and I am looking forward to the Champions Trophy. I think my form is good. The break that we had was very refreshing.
Hair security not at risk - India
India insist Australian umpire Darrell Hair was not removed from the list of officials at the ICC Champions Trophy because of fears for his security.
The plight of a generation
If the outgoing UN Secretary General Koffi Anan is looking for new associates and the likes of his tribe he may look towards Sri Lanka. The reason,