Shyam Benegal is here
Renowned Indian filmmaker Shyam Benegal is to visit Sri Lanka on the invitation of the India-Sri Lanka Foundation.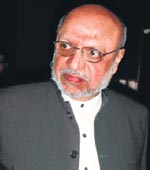 Renowned Indian filmmaker Shyam Benegal
During his short stay Mr. Benegal will deliver a lecture on "Secularism in Indian Cinema" on Tuesday September 26 at 5 pm at the Auditorium, Bandaranaike Centre for International Studies, BMICH. The lecture will follow a special screening of the film 'The Making of the Mahatma'.
The prolific Indian director originated what has come to be called "middle cinema".
His film directorial debut was Gher Betha Ganga in 1962. Benegal shot to fame with Ankur 1973, which introduced Shabana Azmi, who also starred in Nishant 1975. He was awarded the Padma Shri in 1976 and the Padma Bhushan in 1991. The success that New India Cinema enjoyed in the 1970s and early 1980s could largely be attributed to Shyam Benegal's quartet Ankur (1973), Nishant (1975), Manthan (1976) and Bhumika (1977), which were artistically superior yet commercially viable films.