Sumith enters cinema with 'Kurulu Pihatu'
Experienced teledrama director Sumith Kumar enters cinema with his maiden effort 'Kurulu Pihatu' (Birds Feathers) scheduled to be screened soon on CEL circuit theatres.
A past student of St' Anthony's College Wattala, Sumith's entrance to film direction was following the cinema diploma course at the OCIC conducted by well-known cinematographer Andrew Jayamanne. 'Kurulu Pihatu' is to be screened on CEL circuit cinemas including Regal Colombo soon.
Revolving around a child who lostparental love and is seeking the eternal truth in life. This is a long awaited dream realised by Sumith Kumara who is well-known for his productions like 'Mayaratne', 'Pathok Palama', 'Rathriya' and 'Nethra Mangalya' for the miniscreen. Sumith, who had directed 15 teledramas shared his first experience in filmmaking with the TV Times.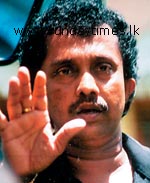 Director Sumith Kumar
TVT: How did you feel about the new experience?
Sumith: It was a heavy work, yet I did not feel myself inexperienced while I was working with my team. This also may be due to the supportive and experienced cast I had.
TVT: What was the objective you had while doing the film?
Sumith: From the beginning I had to live with it. It was dedication and perseverance. It was a meditation and movement that goes with the rhythm of the production. And I found myself fully involved in every minute detail of the creative work of filming editing and even promotion. My objective was to be fully involved because I believed perfection comes from attention to detail.
TVT: Describe your production?
Sumith: 'Kurulu Pihatu' is a very low budget film compared to most of the films produced today. But it was a production which was done with a very tight schedule and a limited budget. During the 20 days shooting we started our day at 6 am sharp and went on till 10 pm.
Thanks to the cast and the crew they kept up to their potential being fully involved. This is what goes to make a successful film.
TVT: What are the challenges you faced?
Sumith: We had a night scene at Bandaragama bus stand where the child actor Sajith Anuththara had to act in the rain at night. The shooting went on till very late. Working in the rain both the cast and the crew were exhausted. And everybody thought that most of us would get sick and would not be able to continue the filming on the following day. But I decided that we should go on with our work the following morning. And we started our work and continued without any problems. I was successful in facing challenges due to my choice of crew and cast.
TVT: Any special remarks about the team?
Sumith: The fact that I could complete my work was mainly due to the excellent cast and the members of the crew. I must thank Jackson Anthony who supported me in my first attempt in cinema with his experience as an actor and also as a director of a film. And Suresh Gamage who plays a character which is a deviation from his earlier roles to exhibit his hidden potential.
TVT: What is your next step?
Sumith: I have made arrangements to start work on a teledrama in November and hopefully starts the preproduction on my second film at the beginning of next year. It is a family film with a story around a child.
Cast of 'Kurulu Pihatu'

Jackson Anthony, Sajith Anuththara,
Dilhani Ashokamala, HemasiriLiyanage,SureshGamage,
Seetha Kumari, Saranapala Jayasuriya,
Muthu Tharanga, Senaka Titus, Sarath Chandrasiri.
Technical Crew
Assistant Director -Mahinda K. Premasiri and Nalaka Ratnayake
Production Executive Dilan Nilanka
Lyrics - Mahinda K. Premasiri
Songs -Senanayake Weraliyadda, Kumari Munasinghe and Sajith Anuththara
Poem recital - Edward Jayakody
Sound Controller -Lional Gunaratne
Editing -Elmo Halliday
Music Direction -Ananda Gamage
Art Direction -Dena Mabulage and Damith Warushavithana
Make up -Ranjith Managaweera
Camera -K. D. Dayananda
Screen play - Mahinda K. Premasiri
Production -Paul Newman
Director -Sumith Kumara
Tale of a 'Kurulu Pihatu'
Following a break up of the marriage of Chandrasekara and Salika, the father and mother of Saman, see their thirteen year old son as a burden. Chandrasekara falls out with his wife and leaves home. In the meantime, Salika yearning for a fresh life of happiness that she had failed to realize with Chandrasekara, marries young Charuka. The child who fails to enjoy parental love and affection turns to his grand mother but there too he meets with rejection.
Saman finally decides to live on the street. An old beggar, a complete stranger teaches him the first lesson in begging. Saman, however, discovers that the only consolation in this sterile life is to become a Buddhist monk. Yet, he has to obtain parental consent to be ordained. However after a long search, he fails to meet both father and mother.
Yet, Saman does not give up his hopes of entering the ascetic lifestyle. His grandfather too had led a dissipated life. He is now destined to live on the streets. Meeting his grandson unexpectedly at the sunset years of his life the grandfather makes way for Saman to meet Chandrasekara.
Meeting his son, Chandrasekera finds that Saman is both mentally and physically ill. At this stage Salika is separated from Charuka and is living alone. Saman is hospitalized and this brings a dramatic twist to the story of 'Kurulu Pihatu'.