Those unstoppable 'LIONS'
Trinity 26 - Royal 5
A win is a win, is a win. That was exactly what the Trinitians achieved when the hungry lions devoured their Royal opponents by 26 points (3 goals, 1 try) to 5 (a try) in the second leg of the Bradby before a full house at Bogambara yesterday.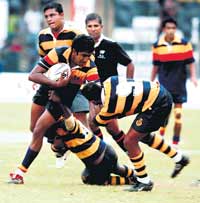 The story of the day......A Trinity player trying to wade off a challenge posed by two Royal defenders.
Playing with the cushion of an eleven point lead gained in Colombo, the Trinitians were slow to take control of the game. Once they did so, however, there was only one team left out at Bogambara.
This probably will not go down as a Bradby classic. Once the Trinitians were 14 points to the good at the break, all hopes of a Royal come-back had effectively vanished and the lack of competitiveness led to the lack of sparkle.
Royal's centre Dilshan Senanayake made two natty breaks but was brought down and subsequently stretchered off. This was neither his day nor Royals. Skipper Gamage was off target with two eminently kickable penalties.
Play swung to the Royal twenty-five after about 20 minutes and tiny Senarath Seneviratne who had a fine game almost went over but was halted by a desperate tackle. The pressure was on and Trinity, not to be denied, scored when centre Kosala Tissera, who probably was the Trinity hero, spotted a gap and sliced through. Kirinde converted (7/0).
Royal's full back Ishara Perera, who was off colour, failed to collect just short of the line and winger Senarath Seneviratne who was bearing down on him, collected and scored. Kirinde's conversion made it 14/0 at the break.
Royal had loads of possession in this half but achieved precious little. Trinity threatened whenever they came within striking distance and their back division was distinctly sharper.
Trinity, sure of their suspending triumph, opened up the game in the second half. Royal was defending desperately with a win non existent.
The Royalists gave some cheer to their supporters with a dandy try – seeing a loss of personnel on the left flank, the ball was passed quickly to winger Mevan Gunawardena who went over with a good burst of speed. The extra points were squandered once again (14/5).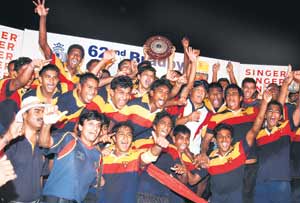 Once again it's celebration time for the Trinity Lions.
Pix by Gemunu Wellage
The hard-working Wanigasekera then made a powerful run and gave over to Kosala Tissera who went over with the tackle. Kirinde was on target (21-5).
The final try for Trinity came when prop Sathya Ranatunga barged over after skipper Maddumapatabendi had started it all. Kirinde was awry with the conversion.
Royal did well to keep the dangerous Maddumapatabendi and (in the first half) the roving Shan Wanigasekera under tight control. But Trinity showed they were a very committed, cohesive unit and not a mere two man team.
The last 15 minutes of the game was played in semi darkness and this robbed the game of a bit of sparkle. Starting the main game around 4.30 could be the answer, if a junior game or even two cannot be scrapped.
Dilroy Fernando, who officiated the first game, stood in this one, too.
The under 18 Trinity team lost the game 10-15 to Royal but shared the Simithirarachchi Trophy by virtue of a 10-5 win in Colombo. Under 12 Trinity won 14-0. Under 14 Trinity won 7-0. Under 16 Royal won 3-0.