Those winning moments
'The struggles of life are a constant saga in the jungles, it's a daily story that unfolds an episode at a time often hidden in the wilderness. When it does happen in the open, an opportunity prevails perhaps for a few seconds in which a winner freezes that frame of a lifetime.
This is one such moment"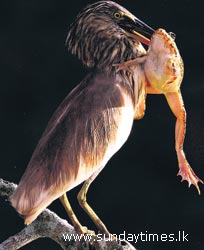 Gihan de Silva's winning image in the Bird category
…citation for the winning entry in the Mammals category of the Wild Life Photographer 2006 contest.
The Wild Life Photographer 2006 reached its grand climax on Thursday with the winners being announced at a ceremony held with the opening of the exhibition at the Harold Peiris Gallery.
There were five main winners for 2006. Ranjith de Silva won the Mammals category, Gihan de Silva, the Birds category, Nadika Hapuarachchi, the Other Wild Life category, and Anura Beneragama, the Wild and Scenic Places category while the Junior Wild Life Photographer prize was won by Gihanthi de Silva.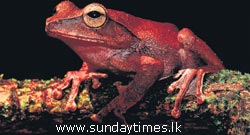 Other Wild Llife category: Nadika Hapuarachchi's winning picture
The Wild Life Photographer of the Year contest was this time around organized by The Wildlife and Nature Protection Society with the aim of encouraging people to appreciate and value the country's natural beauty and wildlife and promote this awareness among the young.
Competition Chairman Chitral Jayatilake said he hoped the competition would create a window of opportunity for passionate wild life photographers to showcase their work, team up and create more awareness for conservation. The Wild Life Photographer 2006 exhibition is on today at the Harold Peiris Gallery of the Lionel Wendt.