Sweet treat for teens
The latest fashions, career guidance, success stories of young achievers, beauty tips, educational options, health advice, entertainment... believe me when I say, the list gets better and better! All you funky young ladies and gentlemen, here's introducing ChokoLAATe, the latest magazine to hit the market.
The first ever teenage magazine to be launched in Sri Lanka, this versatile "glossy" is ready to fill the gap of probably the most desirable and challengeable slot in the arena of publications. With plenty of magazines for sporting enthusiasts, happening socialites and IT buffs, quality reading exclusively for young people is extremely limited.
Rising to the occasion and seemingly getting it spot on, ChokoLAATe, launched last Sunday at the Colombo International Book Fair at BMICH, seems to be destined to have an interesting future. Conceptualised from a vibrantly youthful point of view, the magazine is essentially for young people, but has the potential to grab the attention of anyone from any age group as well.
Doing quite a bit of research into the wants and needs of this particular market before taking the plunge, a lack of acknowledgment of the importance of their identity along with the appreciation of the achievements of young people was evident. This being a segment in the market which could quite successfully be influenced or in business jargon, "brand wash," a clean magazine such as this would be a welcome break.
Speaking to the creative minds behind it all, and getting some juicy info into what to expect in ChokoLAATe, the line-up, I must say, was pretty impressive. For instance, school office bearers such as head girls/boys will be yet another feature, along with the challenges they face in the form of balancing responsibilities and studies and their opinion on how best to strike this balance. Each issue will also be dealing with one chosen career, giving details on exactly how to weigh the pros and the cons in picking out which avenue is best for the individual. Speaking to professionals in various areas, readers will also be given ideas for not-so common careers options, which you never considered, but just might be your forte.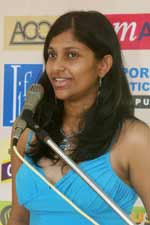 Michelle Gunesekera
With an editorial consisting 8-10 members, the vibrant young personalities will include hip and happening details from the fashion world and will also give other tips to keep yourself looking and feeling good.
The magazine will essentially be an interactive one, with readers encouraged to send in their contributions, creating a forum for their creativity as well.
With loads of activities happening in schools and local youngsters doing Sri Lanka proud in the international arena, in-depth features would be done, giving achievers due recognition.
Issued on a quarterly basis, the magazine promises to be of high quality, both on the outside and inside, with the layout and presentation, to match the substantial material within. Published by MG Square Inc, and distributed by Lake House Bookshops, Chokolaate, priced at Rs.150, will be available at supermarkets, malls and bookshops.. For any information regarding the magazine, contact +94777685444.
Up close with the MD
Chokolaate is the brainchild of Michelle Gunesekera (23), who is the Managing Editor of the magazine. "Doing a magazine someday has been my dream, and so it's great to have it finally materialise," she said.
"Lots of research and surveying was done before I launched out on this venture, and it was obvious that there was a huge need for a teenage magazine."
Michelle completed her CIM exams two years ago, followed by the CPM (Certified Professional Marketer), which is an extension of CIM. "I did a bit of advertising as well and that exposure has helped me a great deal." Her other strengths include creative writing, short story writing and poetry.