Lanka's longest tunnel takes shape at Ramboda
By Suranga Rajanayaka and R.S. Keeriyawatte
A tunnel is being constructed on the A5 highway on the Peradeniya-Nuwara Eliya road via the Ramboda Pass, marking a milestone in the annals of Sri Lanka's highways.
The A5 highway constructed by colonial engineers for transport of their tea and coffee to the metropolis has stayed the test of time intact. But with centuries gone by, it is now time for the locals to improve the road network in the hill country.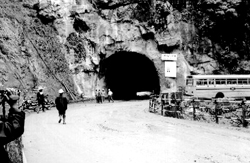 The new tunnel under construction
The new tunnel is 220 metres in length and seven metres wide with a height of 5.6 metres.
Preparatory excavation has been almost completed, according to engineer Nimal Ranaweera.
Nuwara Eliya, located among the salubrious mountain region is considered a health resort and a place for holidaying. As the traffic was very high it has necessitated the new construction, added Mr. Ranaweera.
Care has to be exercised in any improvements to the roadway as its historical importance should be maintained. The original idea to construct a bridge had to be given up as the work entailed greater difficulty. Hence, the Road Development Authority (RDA) decided to construct this tunnel at Thawalantenna as the answer to the traffic congestion.
During colonial times, Thawalantenna was a hive of activity due to travellers taking a much needed rest. The Ramboda Pass on the Colombo-Nuwara Eliya highway is today a bottle neck due to heavy transport needs.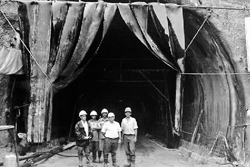 The engineers at the mouth of one end of the longest tunnel in the island
The state has allocated Rs. 2,100 million to improve the 70 km stretch from Gampola to Nuwara Eliya. The tunnel construction is expected to cost around Rs. 200 lakhs. The new tunnel would provide for the passage of two vehicles in opposite directions. It will be the longest and broadest highway tunnel in Sri Lanka.
Two beautiful and scenic Divithura ella and Punaoya ella falls mark the beginning and the end of the new tunnel. More than the locals the foreigners too would enjoy its scenic beauty with the Ramboda Falls at one end.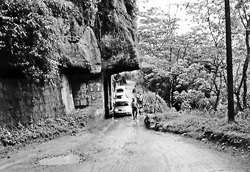 The existing Ramboda Pass
According to engineer A. Diwulgastenna, mining will be from the two ends at Gampola and Nuwara Eliya with a three metre rocky area to be mined per day. The completed tunnel will contain telecommunication facilities, fire fighting equipment and even pavements.