'Water' in a record flow
Deepa Metha's internationally acclaimed direction 'Water' now screening at three theatres including Majestic cinema, Colombo had made box office records. The family film released at Regal-Kandy and Vijendra-Anuradhapura has extended its screening till August due to much public demand.
'Water' which was made with the contribution of many local talents including the main actress had collected Rs. 42 million for its 38 days screening. Full family audience of 27, 500 patrons had seen the film in its first 140 shows screened at 10.30 am, 1.30 pm, 4.15 pm and 7.00 pm daily shows and 9.30 pm at weekend screenings at the Majestic Cinema.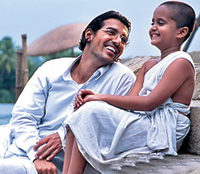 Sarala & John Abraham in the scene of "Water"
Among the local talents, the child actress Sarala performs the lead role of Chauya, the child widow while Irangani Serasinghe and Buddi Wickrema with a large number of extras play in the movie in, which internationally famed local art director Errol Kelly and his team recreated an impressive set of the Indian holy city Varanasi by the river Ganges at the Bolgoda lake off Colombo. Internaionally aclaimed Indian cast Seema Biswas, John Abraham and Lisa Ray play in the lead in the film set in 1938 India. 'Water' deals with India's road to independence and examines the plight of impovershed widows at a temple in Varanasi, India, when India was still under the colonial rule of the British, and marriages of children to older men were commonplace. When a man died, his widow would be forced to spend the rest of her life in an ashram, an institution for widows to make amends for the sins of her previous life that supposedly caused her husband's death.
The film that has already won international accolades by winning Canada's National Film Awards for Best Actress, (Seema Biswas) and the Best Motion Picture at the Bangkok Film Festival 2006 is to be represented at many international festivals.
Imported by film producer Chandran Rutnam and Navin Gunaratne of Global Film Marketing, the film is distributed by the National Film Corporation.
Screening times at Majestic cinema Colombo is 10.30 am, 1.30 pm, 4.15 pm and 7.00 pm.