HighQ Wizards
A quiz competition testing IQ levels, HighQ brought together a group of young achievers who battled it out on TV. Tharangani Perera met them
The world was still spinning on its axis. In one part of the world, people were having their morning coffee, while their counterparts lay down to sleep in a different continent. In Sri Lanka, the quest for a genius had begun…
One of Sri Lanka's most celebrated quiz programmes, SLT-ACCA HighQ Quiz Programme, kicked off in October 2005, generating a great deal of excitement, not only among the participants, but also among the general public. The programme was conducted by Sri Lanka Telecom (SLT) and the Association of Chartered Certificate Accounts (ACCA), and was fully approved by the Ministry of Education. Its participation covered a vast geographical area across the island.
The quiz programme was the first of its kind in the country, which primarily focused on the discovery of general IQ among school children. It was one of the few local TV programmes, which was deemed appropriate for viewing by the whole family, as it was educational as well as entertaining.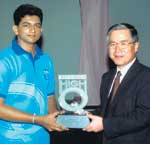 Shuhei Anan, CEO of Sri Lanka Telecom, handing over the SLT-ACCA HighQ trophy to the winner Aravinda Karunaratne
The idea behind HighQ stemmed from the findings of many researches, which indicated that although there is a large population of intelligent children in Sri Lanka, most of them remain unnoticed and unrewarded. This is partly due to local practices of education, which are predominantly based on examinations.
The programme was divided into four categories. 'Window to the World' focused on events that transpired in Sri Lanka and around the world in the recent past. 'Frontiers of Knowledge' covered scientific, technological and engineering related topics. 'Heritage' encompassed human exploration and understanding of natural and cultural heritage, while the final category, 'Human Endeavours' consisted of questions related to a range of pursuits from performing arts and literature to commerce and sports.
"Education is nourishment for the brain," said Chief Executive Officer of SLT, Shuhei Anan, adding that "it is the foundation on which life itself is based, and is a vital component in our daily lives. We hope that everyone who will watch the programme will not only learn something new, but will also enjoy themselves."
HighQ was targeted at school children aged 12 to 20 from government, private and international schools. Each school was allowed to enter two children – who faced an initial selection test – into the programme. However, HighQ was unusual in that it never represented a competition between schools, but one between individuals.
The programme was conducted at three levels and aired weekly covering 12 'Challenge Level' rounds, two semi-final rounds and a grand final round. Following the initial test that was given to all participants of the programme, the 62 highest ranking children continued on to the 'Challenge Level'.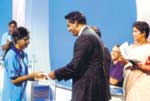 Kapila Chandrasena, CMO of Sri Lanka Telecom, handing over the certificate to the runner-up Zayna Ghany
The semi-final round, which involved the competition of six participants against each other, ended in the two highest scorers moving onto the final round. The winners, and hence the finalists of SLT-ACCA HighQ Quiz Programme were Aravinda Karunaratne, Zayna Ghany, Sanjaya Jayawardane and Praneet de Silva. They endured 26 minutes of interrogation the path of discovery of a young Sri Lankan genius.
At the end of these 26 minutes lay the moment of truth. Sanjaya and Praneet were tied at the third place…
Tough and experienced – Sanjaya Jayawardane
"It was a tough game from start to finish," Sanjaya said, speaking of the tests and trials of HighQ. "Every step of the contest proved to be a new challenge, which I tried to conquer with my strengths. At the end of it, I feel that I did alright."
Prior to HighQ, Sanjaya had appeared on local television in another quiz programme, 'Nestomalt Buddhi Pramodaya' along with Aravinda and Praneet.
The programme had involved quiz teams from various schools across the island, competing against each other. Sanjaya was a part of the team that became runners-up in the final round. "Perhaps because of my past experience, I experienced very little stage fright this time," he said.
Apart from being the Quiz Coordinator for the Quiz Team at Thakshila Central College in Horana, Sanjaya is also a Senior Prefect. Having pursued Business Studies, Economics and Accounts for his Advanced Levels at school, he enjoys reading practically any book that is tossed in his direction.
All rounder – Praneet de Silva
"HighQ provided a great opportunity to expand my knowledge and explore my intelligence," Praneet said, adding, "I feel that there are only a selected few who are given such a great chance, and I felt very lucky to be chosen from among many intelligent kids in Sri Lanka."
The many other talents of Praveen serve to compliment his academic aptitude. He is actively involved in the English Drama Society of Mahinda College, Galle, and regularly participates in theatre activities. In addition, he is a cricketer for his school, a sport which he describes as truly entertaining and addictive.
Praneet was selected to his school's quiz team in 2001, after which he actively participated in many quiz competitions. His triumphs include the 'Nestomalt Buddhi Pramodaya' and various other inter-school competitions such as 'Blue and Gold'.
Having studied Combined Mathematics, Physics and Chemistry for his Advanced Level examination, Praneet is now an Engineering student at the University of Moratuwa and aspires to become an Engineer in IT. He enjoys a range of television programmes and loves hanging out with his friends in his spare time.
Multitasker – Zayna Ghany
"The whole part about the television appearance scared me out of my wits," shares Zayna, runner-up at the event, describing her personal trials in relation to HighQ. "The thought of coming on national television scared me, and I thought I would not be able to answer any questions at all," she added.
"I just finished my Advanced Level examination in May and just prior to the examinations, I had to participate in HighQ. It was quite difficult to manage both of them at the same time, and I only spent about a week in preparation for the quiz programme," she said.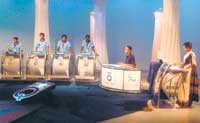 The finalists
From the time she was a little girl, Zayna had an active school life. She was the President of the Islamic Society of St. Bridget's Convent, Colombo as well as the Secretary of the Commerce Society and Treasurer of the English Literary Association. Additionally, she was the Community Service Directress of the school's Interact Club. In the past, she was one of three Sri Lankan girls to receive a consolation prize in the SAARC essay competition, organised by the SAARC Centre in Nepal.
A determined winner – Aravinda Karunaratne
HighQ was a fantastic experience for me," said Aravinda, winner of the SLT-ACCA HighQ Quiz Programme, speaking of his overall HighQ experience. "My first appearance on national television was for 'Nestomalt Buddhi Pramodaya' in which Royal College lost at the semi-finals. On that day, I resolved to do something for my school," he said, explaining that HighQ provided this opportunity.
"I was very happy when I won the competition, because my school, parents and friends hoped I would win, and it was great to be able to live up to their expectations," he said. "I would like to thank my parents, friends and relatives as well as my principal and the teachers-in-charge for their support," he added.
"I am a member of the General Knowledge Club and the captain of the Quiz Team at Royal College," he said, delving into his first encounter with the HighQ programme. "At Royal College, members of the General Knowledge Club are prepared for such quiz competitions, and television and radio programmes." he explained.
Unlike many school children, Aravinda has never read an English novel. I read many Sinhalese novels in my spare time," he said, adding, "I especially enjoy the works of T. B. Illangaratne."
"My hobby is playing the flute," he said, adding that he can play any Sinhalese song "by ear," without having to refer to musical notes.
One of the leisure pursuits that occupies most of Aravinda's time is his quest for information on current affairs around the world. "I browse the internet, read newspapers and watch television programmes that help me gain more knowledge," he said.
"Since my admission to Royal College in 1998, I have been a member of the General Knowledge Club. I never missed a meeting and continued my pursuit for information. My victory, I feel, is the fruit of my dedication to this field," were his final words.