Make it on your own
Managing your own business? Sound risky? Here are a few young people who yearn to make a mark in the world by being their own bosses. Vidushi Seneviratne talks to them
Independence, control and of course (drum roll)... your very own cash. Probably three of the most important things for a young person today. Undoubtedly the best part of your life, why not achieve all you want to achieve, doing your own thing? You're your own boss, you set your own standards, and get to do it all at your own pace...
A seemingly growing trend in all fields, quite a number of young people seem to be enjoying working independently. With independence coming at different levels, the girls and guys I spoke to all sounded equally confident in their chosen avenues. Whether pursuing a hidden talent or taking over the 'professional' reins from a parent, that distinct exuberance that comes only with youth makes this challenging task possible.
Time for 'Buggyjuels'

Julia Sandrasagara
For Julia Sandrasagara (23) designing has been a childhood passion, but she never thought of managing her own venture. Joining the Academy of Seneka de Silva after her A/Levels, and completing a one-year diploma in 2001, she got a thorough knowledge of the practical and theoretical areas in designing.
Getting into merchandising after the diploma, she left it pretty soon. "I suppose I just didn't like working under anyone," she said. Then learning the finer points in pattern-making as well, she, together with a friend, decided to

One of Julia's sketches
produce clothes on their own. Designing, sewing and putting the clothes out to shops, the procedure was hard, and when her friend got married around 2002, Julia was pretty much on her own. "This was when I made up my mind to launch my work by myself," she said. With two others on her staff to do the sewing, she does all the designing and cutting.
Produced under the brand name 'Buggyjuels', her specialty is mainly work clothes for women. "I used to do the more elaborate, dressy, clubbing-like clothes as well, but people don't go partying everyday. They go to work everyday, so there's always a market for simple, yet formal stuff," she said. While she puts out her clothes to a few select shops, she sells some of it at her home as well.

designs born of such sketches
Boosting her profile, Julia got the opportunity to design creations for two of the contestants for the Miss Sri Lanka for Miss World 2005 pageant, in the National Costume event. She also creates office-wear and cocktail designs for fashion shows such as Tittle Tattle, every other month.

designs born of such sketches
Finding a space for her own shop to put out her creations is next on the cards for Julia. "The clothes business is quite a profitable one in Sri Lanka, especially during the season. But people are still not used to the whole designer-wear and brand name culture, but this trend will eventually come in. Getting into this field initially is what is hard for young people like us. But with design schools coming up, the future seems quite positive."
Clicking it right

Dhanush de Costa
Photography is a beautiful art, and when it's in your genes, the creations are so much more perfect. Merging his talent
together with creativity, Dhanush de Costa's handiwork is more than impressive. "I've been interested in photography since school days, and was always planning on getting into it on a serious level," said this 24-year-old. Though his father is a photographer as well, their work is of two completely different genres.
His father is a professional wedding photographer, but he does not find this aspect appealing. "What I do is more or less indefinable. I enjoy photography when the subject is unplanned, and capturing the picture is spontaneous," he said, adding that the versatility of this type of photography is more pleasurable for him.



Some of Danush's photographs – eye-catching and thought provoking
Working for Ruby Studio under Subha Tidball, his focus at work is generally on commercial photography used in advertising, with his subjects being products and models. "My work gets promoted through the Studio, and I get a chance of reaching buyers."
But Dhanush's specialty is abstract photography. "I enjoy taking pictures of wildlife and random people. I'm just not into planned picture taking processes!" he says, explaining the work he does on a personal level. With a confirmation that his photographs will be on the studio website in the near future, Dhanush currently sells his pictures, to friends and the many others he undoubtedly impresses. He plans to eventually get into photography on a serious, commercial level on his own.
Take a look at his creations, and you'll lose your breath. Whether it's a little girl's radiant smile, an elephant feasting on lush vegetation or the sky at its most brilliant moment, these pictures have the capability to tell a story, and much more. Capturing the very essence of every nuance of his subjects, this is one young photographer to look out for.
In a slow but steady industry
Totally a family affair, one particular bookshop in the heart of Kollupitiya junction is now in the hands of a very capable young individual. Literally taking over the reigns of managing the bookshop, from her mother, Nilanga Jayasundere (23) slipped quite comfortably into the role. "Once I finished school, I started helping my mother out with the shop, since I felt a little guilty that she was working so hard," she says with a smile. "So what started as part-time voluntary work, slowly became a fulltime job, and now I have basically inherited the business from her!" she says.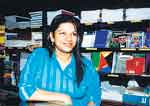 Nilanga Jayasundere – the happy smile of a perfectionist! Pic by Athula Devapriya
With her grandfather owning the premises, her grandmother had initially run a salon at the shop. But eventually her mother, having to take on the responsibility of the family at quite a young age, started the bookstore, and has been involved with it for the last 22 years. Nilanga is now Managing Director, while her mother plays a more advisory role. The ever-familiar 'Mali Book Centre' is a favourite for any sort of stationary from office material to personal items, greeting cards, and now even cosmetics and toys. It has a number of regular customers, as well as individuals wanting to try out the place and its products.
"We generally have a staff of about three, but during seasons like Christmas, we need more, because it gets really busy in here," she said, adding that managing your own enterprise is a tough job, regardless of the size of the venture. "Just because you manage a store, you don't get to sit around and take it easy, while everyone else does the work. On the contrary you have to be ready to do any task at any given moment, because at the end of the day, making the customer happy is the priority. Though I haven't studied business as such, I fully understand that."
So what's the best part of handling your own business? "Apart from the fact that there's ample job satisfaction, I have discovered new skills that I possess. I've realised that I'm methodical and am a perfectionist, when it comes to the shop. Each and every counter needs to be arranged by me, and I know every product we have in the shop, as well as exactly where everything is!"
According to her, people are extremely interested in educating children, and even with technology evolving to this extent, there is still a market for the products they sell. "This industry is a slow moving one, but it's constant. The profit doesn't come in bulk, but the market will always be there."
Doing what they love doing, all on their own, these young people are simply impressive. So the next time you want to get something done and your contact is a young, new name in the profession, don't underestimate them! They are probably as good as it gets...
- Watch out for more young people doing their own thing in next week's Mirror!