Stop these crooked deals
Sri Lankans seeking "greener pastures" in Malaysia are taken on a "jolly good ride" by irresponsible and unscrupulous job agents. Those engaged in these malpractices hail from the Eastern Province, Trincomalee, Batticaloa, Ampara etc., and dominate the foreign manpower business in Sri Lanka with dealings being conducted from posh air conditioned offices in Colombo and the suburbs.
False promises are handed out to the unsuspecting employee who is painted a rosy picture of the working conditions prevalent in Malaysia - enhanced salaries, unlimited overtime, food and other benefits.
But sadly enough none of the facilities offered actually exist.
On arrival in Malaysia, the employee is in for a rude shock when he realizes that what was promised to him by the Sri Lankan Agent, in his employment contract, is not actually adhered to.
Instead a fresh employment agreement is signed by the sponsor. This frustrates and humiliates the worker as an exorbitant sum has been paid to the agent to gain foreign employment.
The Sri Lanka Bureau of Foreign Employment should intervene and take stringent action against the fraudulent job agents who exploit the poor workers for their monetary gains and personal benefits.
Blacklisting them will serve as a deterrent and an eye-opener to the other agents too who are involved in such crooked deals.
| | |
| --- | --- |
| Back to Top | |
Murali - Our weapon of mass destruction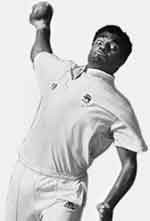 Cricket today is a keenly contested game
Taught to us by colonial masters of repute and fame.
But when a pupil proves that he is smart,
Some colonial masters mutter 'that upstart'!
A boy from Kandy, Sri Lanka's hill capital,
Was destined to reach the local pedestal,
He made the grade in school and club,
A genius of a bowler he was dubbed.
His bowling arm was less supple and different,
It concealed his spin which was not very apparent,
When batsmen could not read him right,
'Chucker' they yelled with all their might.
When threats and remarks had no effect,
And the batsmen could not their wickets protect,
Umpires were used to threaten and report
Poor Murali had little international support!
As far as the cricketing public could see,
There was no controversy!
A victim of conspiracy plotted and planned.
By whom those Boards were manned!
The 'objectivity' of science was then sought
By Murali's mentors who valiantly fought,
They proved that his action was legitimate
And faulted the umpires for their 'visual' estimate!
His captain on his visit down under,
Fought against odds and did not surrender,
They bearded the lions in their own den
Our Captain Cool from the front, led the gallant men!
On a day that the cricketing world was closely watching,
Murali was on his way for a historical launching,
A test eleven of England of immense repute
Were made to bite the dust - there was no dispute!
So our Murali, favourite of every Sri Lankan,
Did the country proud when our hopes were sunken.
A one man Weapon of Mass Destruction,
Even Bush and Blair cannot make a reproduction!
May he continue his work of demolition,
As the smiling assassin's spin is close to perfection.
At last the critics seem to be speechless,
And accept him as the one peerless!
| | |
| --- | --- |
| Back to Top | |
Never on a Saturday!
I went to the Kotte Municipality at 9 a.m. last Saturday over an important matter to meet an official in the Planning Division, there.
I could not enter the office as the door was locked. I was told by a labourer who was sweeping the outside precincts of the office that the Planning Division of the Kotte Municipality does not work on Saturdays!
I was shocked! Some sections work till 1 p.m. on Saturdays but some sections don't. Why? Are the Planning Division workers overworked? Or are they not paid if they work on Saturdays? The new Mayoress should look into this matter. She should find out who determines the working days and working hours of the employees of the Kotte Municipality. Or has this to be done by the Kotte Municipal Commissioner?
The people of Kotte are waiting for an answer.
| | |
| --- | --- |
| Back to Top | |
It's not a fasting Buddha but Bodhisatva
The Sunday Times of May 14 on page 1 carried a caption just below the picture of a fasting ascetic, as the "Fasting Buddha".
I wish to inform the general public that the Buddha never practised fasting.
Only the hermit Bodhisatva followed fasting thinking that he would attain Enlightenment, by following that path. Later he realized the vanity of it and gave it up.
Thereafter he followed the middle path and then only could he attain Buddhahood.
During that time, fasting was a method followed by some ascetics to attain some divine power. But no one could do so.
Prince Siddhartha lived a very luxurious life. But later, it occurred to him that worldly pleasures were nothing but vanity.
That was why he gave up the worldly pleasures, his queen, and the son born on that day and left the palace, in search of a way to find out the path to annihilate sufferings.
| | |
| --- | --- |
| Back to Top | |
First put the rails in order
The letter by Brian Jansz in The Sunday Times of May 24, under the heading 'Fowzie – Highway of Imagination' is true. Without making grandiose plans, that will never materialize, the Minister should direct all resources at his command to restoring the existing roadways and railways to their original state.
I remember, when I was a schoolboy in the mid-fifties, I used to travel to school by train.
At that time, when the population of the country was much less, and consequently the number of employees in the CGR was also much less, the railway lines always lay along absolutely clean pathways. Not a single weed was to be seen and the edges were trimmed and neatly maintained. Every morning you could see teams of cleaners picking up litter from passing trains.
Now, although no increase of rail mileage has occurred for the past 85 years, the workforce in the Railway I believe, has increased by more than 500 percent, in some spots you can only imagine the railway lines are there, because you certainly can't see them, because of the overgrown weeds.
This shows better than words can say the efficiency of our administrators who took over from the white man. If the white man could do it, I wonder why our people can't.
'Letters to the Editor'
should be brief and to the point.
Address them to:
'Letters to the Editor,
The Sunday Times,
P.O.Box 1136, Colombo, Sri Lanka.
Or e-mail to
editor@sundaytimes.wnl.lk
or
features@sundaytimes.wnl.lk
Please note that letters cannot be acknowledged or returned.