In his footsteps and into his mind
'Hemingway in Africa' –by Sir Christopher Ondaatje distributed by Visidunu Prakashakayo, Boralesgamuwa. Price Rs. 1,800
"The Snows of Kilimanjaro" is one of the world's classic short stories, and one of the most famous fictions written by Ernest Hemingway. It appeared in 1936, two years after Hemingway returned from his first African safari, when he was at the height of his literary and worldly success. Yet its central character is a wealthy writer, on safari, who is a failure. The gangrene in his leg forces him to admit that he has frittered away his literary talent on a life of luxury and will now never produce anything enduring, any writing with the radiance of the snows at the summit of nearby Mount Kilimanjaro.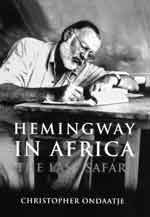 Despite his own undoubted achievements as a writer, which in 1954 won him the Nobel prize for literature, Hemingway put himself and his fears for the future deeply into this mid-life story. And it does indeed appear to have foreshadowed his literary decline in the 1940s and 1950s, and his subsequent suicide. All this is familiar to readers of Hemingway. Not so well known is that his love affair with Africa began when he was a child in Illinois and lasted right up to his death. As a boy he was thrilled by Theodore Roosevelt's African safari and books like The Man-Eaters of Tsavo; in his twenties, his first professional book review was of a French novel about Africa by a black writer; his first safari produced a major book, Green Hills of Africa, while his second safari twenty years later led to a sprawling "African Journal," published posthumously as True at First Light; and this is not to mention some excellent shorter pieces of fiction and non-fiction with an African theme, including the two celebrated short stories, "The Snows of Kilimanjaro" and "The Short Happy Life of Francis Macomber." Even though he almost died at the end of his second safari in a plane crash which left his health in a parlous state, still he wanted to return to Africa for a third safari. Clearly Africa bewitched Hemingway.
Christopher Ondaatje's Hemingway in Africa investigates this fascination with a charming mixture of perceptive analysis of Hemingway's African writings and personal insight into the mind of a complex and driven individual whom Ondaatje both admires and deplores. While others have written about Hemingway and Africa, Ondaatje is the first to pursue Hemingway in Africa, by following in his footsteps on his two safaris in Kenya, Tanzania and Uganda, as he did in a previous book Journey to the Source of the Nile which followed the great Victorian explorers of east Africa.
Ondaatje's own journey through the post-colonial Africa of our time is interwoven with Hemingway's imperial progress; and the one intriguingly illuminates the other. As he remarks of Hemingway: "Certainly he was no explorer, not a man like Livingstone or Burton always looking for new discoveries, usually in uncharted territory, and motivated by a certain necessary humility. Yet he was more than a mere adventurer. As a writer about Africa, I think Hemingway deserves to be called an explorer, even if he was only an adventurer in his travels and personal life on safari."
Both hunter and quarry are men of action and affairs, successful risk-takers in their chosen fields. But both are also romantics. The tension between realism and romance, which drives both worldly and artistic achievement, makes Hemingway in Africa an absorbing read as well as a significant contribution to Hemingway studies.
| | |
| --- | --- |
| Back to Top | |
From school to school he rolled gathering lots of moss
'Student Days - Down Memory Lane' is the latest book by Buddhika Kurukularatne in succession to his 'Student Days One' published in 2001.
In the very first page of his factual recollection he refers to two striking features of his early life. One is passing through five schools - the first was the Methodist Mixed School next to his own house, the cradle of his village education which is no more. The very ground where it stood is absorbed for village development! He states that it was a school run by the Methodist Church although the hamlet was a 100% Buddhist place which has produced doctors, lawyers, engineers and also parliamentarians. He next went to Dharmasoka Primary in Ambalangoda, then to S. Thomas' Prep School in Bandarawela under the Head Master W.T. Keble - a great educationist from England and a descendant of the founder of the Keble College of Oxford.
Keble came to Ceylon in 1929 along with the legendary Dr. R.L. Hayman to teach at S. Thomas' College, Mt. Lavinia. Keble realized early that junior boys thrown amidst older boys in a big college had little chance of developing their own personalities and a sense of responsibility. Hence he started the S.T.C. Prep School at Kollupitiya in 1938 and later the school at Bandarawela to which Buddhika entered. After a year at Bandarawela, Buddhika went over to S.T.C. Gurutalawa. This was where he came under Dr. R.L. Hayman - the legendary Sub-Warden of S.T.C. Mt. Lavinia who founded the wartime branch school at Gurutalawa as Headmaster - a boarding school secluded in the hills between Nuwara Eliya and Bandarawela.
Although it is reputed that 'rolling stones do not gather any moss', Buddhika was one student who gathered a lot of experience when he rolled from school to school in his most impressionable years.
His clear observation of life in a boarding school, the experiences he was exposed to and the different human beings he came across was amazing in a young boy of his age. He participated in the variety of activities in these schools always ready for new adventure learning by experiences and by observation, imbibing many lessons for life.
Finally he came back to Dharmasoka College in Ambalangoda. His first experience at Dharmasoka was meeting the reputed Principal D.T.Wijeratne who asked him what form he was in at his previous school. When Buddhika replied, 'Lower 6th' the Principal promptly asked him whether he was at S. Thomas'- because it was only at S. Thomas' that classes were recognized as Lower 3rd, Upper 3rd etc. etc. and Wijeratne being a Thomian of the vintage of Warden R.S. de Saram, immediately recognized a boy from his old school.
The second feature he refers to is that parents did not have to forge documents to admit their children unlike what most parents are compelled to do today setting a bad example to their offspring who were aware of the deceit exercised by their parents.
Today we hear of constant complaints about crowded schools, crowded hospitals, crowded buses, crowded trains, crowded public services and crowded nationalized corporations - this is a malady all over the world, even crowded legislative, administrative and judicial institutions. Buddhika realized that we live in a society with increased wants, but that constantly fails to supply the demand. Parents have an extremely difficult time trying to find schools for their children. They become really desperate. It is extreme situations that call for desperate remedies.
Buddhika matured early to be a Member of Parliament and moved with the highest in the land, but he never lost his common touch, and though he calls himself a 'game-kolla' (a village lad) he never became a 'kultur' child from the affluent city. He was weak in English at the outset, but he learnt in due course to wield the 'kaduwa', lucidly and precisely.
Buddhika benefited by the outlook of educationists like Dr. R.L. Hayman and W.T. Keble in that they never stopped at the opening two words of the Latin Lexamater, 'Disce Aut Disce de' but read the line to its very end with the remaining words, 'Learn or depart, Manet sors tertia caedi - but there remains a third alternative - be caned or be corrected, or be improved. Keble was a great believer in looking for a spark of goodness, a trace of some ability, characteristics that suggested attention and possible improvement in a child. Having spotted that, he spared no pains to develop it.
Dr. Hayman and Keble thought that when a child is accepted by them to the school, at some point they could not hand him back as a person who could not learn and hence had to 'depart'. They took great pride and made all efforts to develop some ascertainable capacity in the child to equip him for life. Warden de Saram fully encouraged this approach; an approach that had been adopted at S.T.C. from the time of Warden Buck and developed by Warden Stone.
Buddhika's graphic description of the Ambalangoda river - the training waters of many outstanding swimmers from that area, his love for domestic animals, the magnificent bull 'Raththa' whose personality enamoured his father and 'Nini' the doe, that Buddhika had which was a replacement of the small female deer his father brought home, paralysed from the waist downwards due to an attack by a fox, but which could not be cured by the local vet. His tales of the pretty maid Maggi and 'Nini'- the pet doe make interesting reading.
'Student Days - Down Memory Lane' has brought us back to the Romance of the Home, love and affection of the people of the rural areas, unperturbed by the humdrum of the city. The fun of bringing up a pet deer, the village festival and the harmonious relations of the people which are kept alive. After the episodes he jets back to Gurutalawa and relates tales of the Carpentry Master 'imported' from Scotland - Mr. Scot who along with Dr. Hayman, W.T. Keble, Rev. A.J. Foster and J.S. Eliot were also at Mt. Lavinia in the 'thirties' when I was a student.
It was at that time that Dr. C.W.W. Kannangara was the Chief Guest at a prize giving in the late 1930s when in his speech he paid high tribute to S.T.C. but went on to say, 'you boys at S. Thomas' tend to be taught the lengths of European rivers and the heights of English mountains. It is about time that you were taught the history and geography and the ancient achievements of your own country. This was a remark that surprised all of us. But in Dr. Hayman's proposal of the Vote of Thanks to the Chief Guest, he with his disarming smile added to a lot of platitudes to the Chief Guest and said, I must take the liberty of telling the minister that we at S.T.C. take our boys to see the ancient cities, the tanks and the irrigation achievements in the dry-zone, to Anuradhapura, Polonnaruwa, Sigiriya and Dambulla. In addition, after seeing these world famous achievements, we also teach about the English mountains and the European rivers lest our boys go out into the world believing that Mahaveli is the longest river or Adam's Peak, the highest mountain in the world!'
Lastly, Buddhika's longest chapter is full of some little known facts about D.S. Senanayake 'the Father of our Nation'.
Former journalist, writer, former Member of Parliament and Advocate, Buddhika Kurukularatne will launch his latest book 'Student Days Down Memory Lane' tomorrow, at 4 p.m. at the Mahaweli Centre, Green Path. 'Student Days Down Memory Lane' follows his first book 'Student Days (1)'. Both books have been approved by the Ministry of Education.
Rt. Rev. Duleep de Chickera, Bishop of Colombo, will head the panelists. Messrs Bradman Weerakoon, former civil servant, Sam Wijesinha, former Secretary General of Parliament, A.H.M. Azwer, Presidential Advisor, K.V.S. de Silva, the author's last Principal at Dharmasoka College, Ambalangoda, Prof. J. B. Disanayaka and Mrs. Priyani Wijesekera, Secretary General of Parliament will be the others on the panel.
| | |
| --- | --- |
| Back to Top | |
NM– true man of the people
Does the Member of Parliament take Parliament seriously today? There is at least one minister who has doubts about it. Making a plea that MPs should take Parliament seriously, Minister Sarath Amunugama told a packed hall at the Dr. N.M. Perera Centre that MPs should not treat Parliament as something "gedara yana gaman", quoting the much publicised slogan of the well known supermarket chain.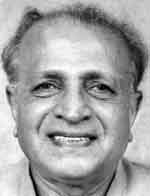 N.M.Perera
Speaking at the launch of the Dr. N. M. Perera Birth Centenary publication-'NM – in his own words & as seen by others', Minister Amunugama took great pains to explain Dr. Perera's commitment to the parliamentary process. "He and the other Leftist leaders thoroughly enjoyed being in Parliament. They made long speeches running for over two to three hours," he said. "Dr. N. M. was the Opposition spokesman on the Budget and made the first speech on behalf of the Opposition after the Budget was presented. If one glances through the Hansards, one can see the seriousness of how he analysed the Budget."
Minister Amunugama recalled how a week after opening the Budget debate in parliament, Dr. N.M. would go up to Peradeniya to present a synopsis of his speech to the undergraduates. "It was an occasion that none missed. The Arts Theatre was packed to capacity and the most noticeable thing was that all the elegant ladies of Peradeniya who rarely attended lectures, turned up in full strength to both see and listen to Dr. Perera. It was a masterly analysis and a superb introduction to economics," he reminisced.
Introducing Dr. N.M. as "a man whom we admired greatly", he recalled the days when as a student of Trinity College, he used to attend meetings of the Left held near the old market in Kandy town. He remembers Dr. N. M. as the most elegant man on the platform. He had tough competition from Pieter Keuneman who always turned up in shorts. Both were heavy smokers. Keuneman would speak in English while Dr. Perera spoke in Sinhala. "Dr N.M. was a very elegant man. We were influenced very much by his looks as much as his thoughts," he confessed.
In more recent times, as a public servant Minister Amunugama met Dr. N.M. on many occasions when he was Minister of Finance. He related an interesting episode of Dr N.M.'s reaction to a comment he made (he was then Director of Information) at a meeting summoned by Dr. N.M. to complain that the government was not getting enough publicity. "I had the cheek to tell him 'Sir, why won't we use some of the corporation funds to do some publicity'. He reacted with horror. 'What are you talking? How can we use public funds for this sort of thing,' he insisted. That was many years ago and today it's entirely a different world," Minister Amunugama said.
He spoke of Dr N.M.'s commitment to the democratic ideas based in terms of what his teacher Harold Laski taught. All Dr. N.M.'s activity was to expand the facilities which were then held by a few privileged people to the masses. His anti-colonial struggle was based on the premise that whatever material benefits colonialism conferred, they did not allow for the development of the full man – the ethos that the people of India and Sri Lanka professed at the time. It was something that was necessary for the completion of manhood (or womanhood) of the people who lived in these countries.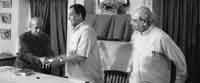 Prof. Carlo Fonseka, Dr. Sarath Amunugama and Prof. Tissa Withana at the launch
He then went on to describe how Dr. N.M. evolved from the anti-colonial struggle to the anti-capitalist struggle. "There too the whole purpose was to see that privileges that were enjoyed by a few should not remain as such. A much larger number of people should have the benefit from what that society produces and aspires too. He saw the plight of the people in 'Thun Korale' – Ruwanwella, Yatiyantota and Karawanella.
He then touched on Dr. N.M.'s great commitment to "democratization and the emancipation from reactionary, even immoral practices and immoral degradation, of the vast number of people."
Minister Amunugama valued Dr. NM's contribution towards the movement for free education which was spearheaded by C. W. W. Kannangara as Minister in the Executive Committee on Education in the State Council. "The credit for free education must go to the whole committee and to the whole council," Minister Amunugama said, revealing some facts from a recent research he had done. He named C.W.W. Kannangara, Dr. N.M. and A. Ratnayake as co-authors of free education. "They fought hard to get the free education bill through the State Council. It was not a single handed effort by Kannangara, who, of course should be given the credit of steering the bill through amidst many odds."
Minister Amunugama also spoke about the lucidity of Dr N.M's thinking which was seen in his speeches and in his writings. Also his expertise in the area of public finance.
Referring to his keen interest in forming the National Savings Bank (NSB), he pointed out that Dr. N.M. took great pride in the fact that the Sri Lankan villager would always be a man of thrift - a man who would save. He always talked of the child with the 'kate' (till) – the symbol of the NSB.
To Minister Amunugama, Dr N.M. was very much the leftist leader closest to the rural folk and the lower level of the working class. He was most concerned with the life and the fate of poor people. "He was a multi-faceted man – a man of absolute probity and dedication to this country and an outstanding example for us all."
In lighter vein, he referred to Dr. N.M. as "a jolly person who loved to dance and was full of cheer - a very human person with a very large heart".
The book
Professor Carlo Fonseka who presided, thanked Professor Colvin Goonaratna who pieced together the writings and edited the book. It's in two parts. One contains an autobiographical sketch which Dr. N.M. started writing in his last year and never had time to complete, his writings and speeches. The second part contains 12 articles written by eminent persons about Dr. N.M.'s contribution.
These writers, in the words of N. S. E. Perera, the Secretary of the Dr. N. M. Perera Trust, are representative of the educated inner political voice of the age Dr. N.M. greatly influenced distinguished men with differences of outlook and calling.
Quotes from the autobiography On his birth
My mother took pride in announcing to all her friends that I was a seven month baby. She chuckled with evident satisfaction that she nourished me into healthy bonny childhood under great difficulty. There were no doctors attending at the childbirth. Only the local midwife with her years of experience which had made her an expert in her own way, was at hand. There were no weighing machines to weigh me. I was a tiny weeny, baby so small and so fragile that I could not suck breast milk. For weeks, I was on a 'pankade' dipped in milk. I must have steadily increased in weight and grown up quite healthily, because mother never referred to any serious illness that afflicted me in these early days. I was thus the pre-maturely born fifth son of my parents.
On his humble origins
My origins were very humble. I was born into a lower middle class family of absolute insignificance. When Mr. S. W. R. D. Bandaranaike characterised me as the unknown son of a still unknown father, I used to reflect how perfectly accurate he was, and his delineation as apt and true.
This was his retort to my description of him as the distinguished son of a still more distinguished father. This clever remark of his laid bare the mental make-up of Mr. Bandaranaike who, after all, was the proud son of a top aristocratic family in Sri Lanka. It was natural that he should refer in this condescending way to a person like me with no pedigree or an aristocratic lineage.